As president of Aptiv Autonomous Mobility, I'm often asked, "When will self-driving cars arrive?" My answer: They're already here. If you find yourself in Las Vegas—and, soon enough, other cities around the world—you can ride in one of Aptiv's self-driving cars, servicing the Las Vegas Strip and downtown area.
One year ago, Aptiv Autonomous Mobility became the first autonomous vehicle provider to offer commercial robotaxi rides to the general public, in partnership with Lyft. Through this partnership, residents and visitors to Las Vegas have had the opportunity to ride in an Aptiv self-driving car with a simple click of the Lyft app.
Today, we are proud to announce that we have successfully completed more than 50,000 passenger rides, making Aptiv's Las Vegas deployment the world's largest public robotaxi service. Our work in Las Vegas is proof positive that Aptiv is delivering on our mission to provide safer, greener, and more connected mobility solutions.
Over the course of these 50,000 rides our passengers in Las Vegas have provided us with valuable feedback that has helped us improve our technology and operational performance. Passengers have awarded our autonomous robotaxi service a "star rating" of 4.95 out of five stars, commenting positively about the vehicles' intelligence, comfort, and the expertise of our safety operators, who accompany passengers during their rides to ensure the utmost level of safety. We're pleased to report that 92% of riders said they felt "very safe" or "extremely safe" during their rides.
During the past year we've also had the opportunity to collaborate with local government officials in an effort to both educate local residents about autonomous technology and to understand how autonomous technology can fill gaps in local transportation networks. Through our work with the State of Nevada, City of Las Vegas, Clark County, and Regional Transportation Commission, we've grown our commercial operation to provide access to over 2,100 hotels, entertainment venues, restaurants, and popular destinations throughout the Las Vegas Strip and downtown area, including City Hall and the Las Vegas Convention Center.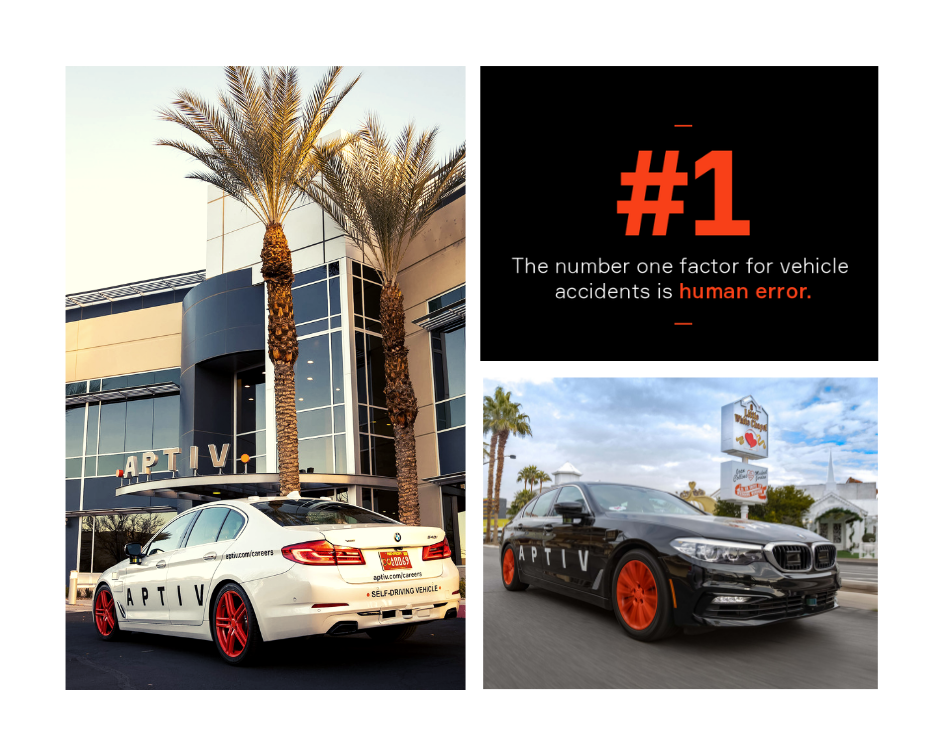 Autonomous mobility not only holds the promise to make our roads safer—greatly reducing the 1.3 million global road deaths that occur annually—it offers our society a highly efficient mode of transportation. The result? Mobility that is safer, more accessible, and more affordable than today's transportation options. Aptiv research has shown that our robotaxis can provide dependable and convenient transportation in urban areas, while significantly reducing the number of cars on the road. This is made possible through our robotaxi fleet's reliance on a centralized network, which enables efficient management of passenger demand and vehicle routing. This results in fewer vehicles transporting more people, with reduced wait times for riders.
We're proud that more than 50,000 riders in Las Vegas have experienced Aptiv's exciting autonomous vehicle technology.
Learn more at
aptiv.com/av
.