Sensing and Compute
MAKING SAFE MOBILITY REAL
Our primary focus? Safety.

At Aptiv, we envision a world with zero road injuries or fatalities. To help us get there, active safety plays a crucial role by preventing the accident altogether. In a world in which 94 percent of accidents are influenced by driver error, Advanced Driver Assistance Systems (ADAS) such as autonomous emergency braking, blind spot warning and lane assist, can help compensate for human error. At Aptiv, our deep expertise in sensing and computing allows us to provide these life-saving solutions in the real world.
IT TAKES MILLIONS OF MILES TO TRANSFORM MATH INTO A FEELING.
Algorithms make higher levels of autonomy possible.
A HALF-SECOND CAN MAKE ALL THE DIFFERENCE

Getting to zero traffic deaths is no ordinary goal. But Aptiv is no ordinary company. We'll get there, one half-second at a time.
Learn More
Aptiv is a leader in making safe mobility real. We've been supplying highly advanced driver assistance systems (ADAS) for nearly 20 years.
We have strong expertise in AI and machine learning, which are incorporated throughout our portfolio, enabling advanced safety and ultimately, autonomous driving. We enable the development of systems that support all levels of autonomy thanks to our deep expertise in perception sensors, sensor fusion, satellite architecture and software.
Learn More
Since May 2018, we've been running our commercialized autonomous services vehicles in Las Vegas, giving over 35,000 automated rides to consumers. With an average passenger rating of 4.95 out of 5, we're able to apply what we learn from this real-world experience to improve our ADAS features.
Learn More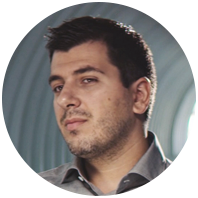 "What I like about working at Aptiv is the learning never ends. To bring our systems to life, teams from various areas of expertise need to come together. The complexity of our work requires our global algorithm group to tightly collaborate together and learn from one another. Another motivating factor for me is that, at Aptiv, we help save people's lives on a daily basis. We are making a difference and this gives me a great sense of purpose in my work."

Spyros | Global Chief Engineer for Algorithms
Join our innovative team
Want to do more than just imagine the ways our world will move tomorrow. Here's your opportunity. Join the technology company that's transforming the future of mobility today.
Careers