A lot of people – a lot – are talking about autonomous driving, specifically the software necessary to perfect self-driving cars. Companies are doing more than talking – they are testing, researching and hiring to solve this software/algorithm challenge… which in turn tends to make us focus on the software that drives the car.
There is, however, an unsung hero in the autonomous driving future – vehicle architecture. Industry leaders are starting to address the fact that re-engineering, re-creating and re-architecting a vehicle's architecture, or what we call the nervous system – the electrical distribution system composed of wires and connectors, may be even harder to solve than writing perfect code.
How much of a difference is there?
Today, there are around 50 companies with autonomous driving licenses in California alone. There are, however, only about five companies – in the world – that can design and manufacture end-to-end architecture systems. There is only one company that has both the brains (think software and compute) and the nervous system (think sensors and power / data distribution) – and that is Aptiv.
The future of mobility hinges on our collective ability to re-architect the nervous system of the vehicle.
Why is this challenge so great?
Take this into consideration. In the year 2000, the overall electrical power consumption of an average car was comparable to a hair dryer. Today, the power necessary to enable the increased content and electrification, is that of an entire household. Data speeds within the car used to be in the range of 150 kilobits per second. We are now in the range of gigabytes per second – a massive increase – and we haven't even come close to what will be needed in future fully autonomous cars.
Another interesting fact; five years ago, vehicles had 25 percent less circuits than today's cars. Five years from now, that number will increase by another 30 percent. That's a big jump.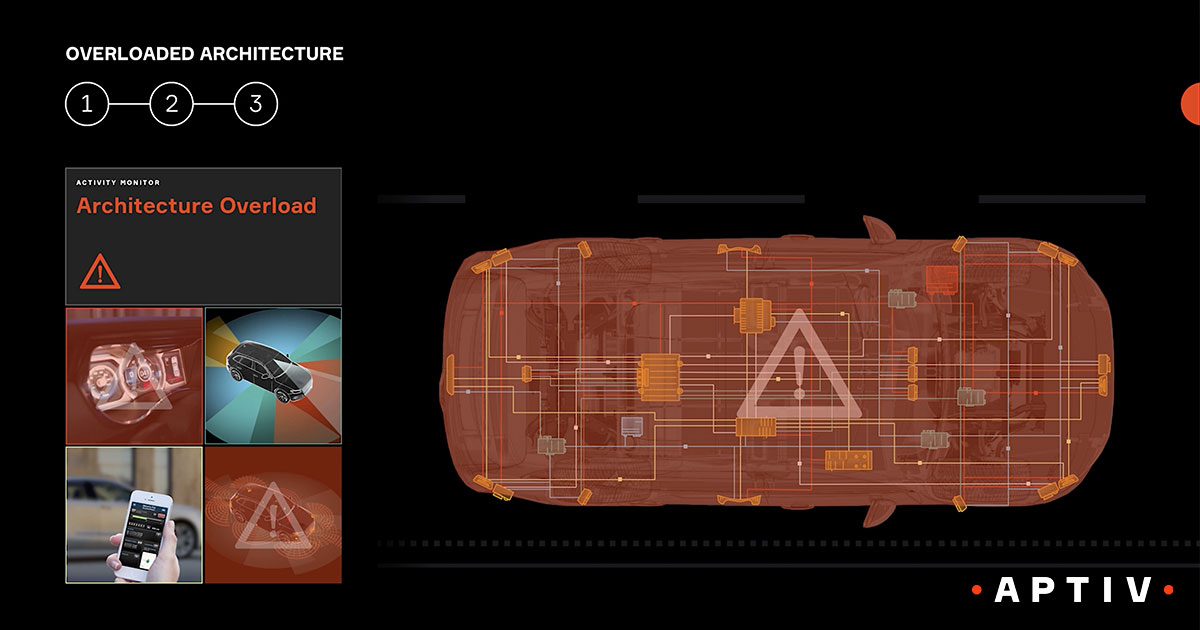 So, what is vehicle architecture and why is it important?
There are three elements to architecture. It's the design of the software or the software architecture, the sensing, compute and control hardware, and the signal and data distribution on the vehicle.
Traditionally, when a new feature was added to a car, the method was simply to add an ECU (electronic control unit), a little more wire and harness cabling, and then embed firmware and software. Finally, and the hardest part – find the best place to put it. Since the dawn of the car, we've just been adding – and adding – and adding. It's gotten very crowded.
Today's premium cars increased the typical wiring from 1.5 miles to 2.5 miles with more than 100 different ECUs.
From a development standpoint, making sure all of those work perfectly together is an incredible challenge, but it's one of the things that we've always been very good at. As we look forward, however, to an autonomous driving future, it's clear this approach to architecture won't work – there's just no more room.
That's where smart architecture comes into play.
Today, we see four types of architectures prevailing. Each comes with trade-offs and Aptiv is better positioned than anyone else in the industry to articulate these tradeoffs to our customers. The first two architectures, Decentralization and Select Domain Centralization are the most cost effective solutions for today's vehicles. However, these approaches begin to struggle as you approach autonomous driving level 3. This is where the smart vehicle architectures come into play.
To meet the demands of higher levels of autonomous driving, either Domain or Zone architectures will be required. Zone architectures are best suited for a car maker with a limited number of platforms / variants to implement (e.g. automated mobility on demand), whereas Domain architectures are better suited to a customer who has multiple platforms.
Smart architecture is almost like designing a puzzle. There are thousands of ways to assemble the pieces – and there isn't just one right way. At some OEMs, for every vehicle built, there is a specific wire harness that goes with each vehicle, known as a KSK platform. For example; we supply the Audi Q7 and it has more than 300 different possibilities for sub-harnesses and these can come together in any permutation of configurations. In this case, we have shipped more than 3000 variations during the past 12 months. And we do all of that tailoring within 96 hours of receiving the order.
What's critical is that our customers need a partner to make the decisions around architecture selection and how best to meet costs, while operating safely and providing the features consumers want.
So how are we able to do this? How is Aptiv different?
It's because of our linkage between data and power architecture with high-level compute and software, the linkage between the brain and nervous system. All of this requires world-class technology and expertise, which we have. And Aptiv is the only company that has all of these capabilities under one roof.
Along with the increased automation of vehicle safety comes the great need for reliable and fail-safe systems to deliver signal and power distribution. Essentially, fail-safe operation means that in the event of a failure, the vehicle can still operate safely. Our architecture design allows for this. When lives are on the line, the car's nervous system can never stop working.
So really, it all comes back to smart vehicle architecture. The future of autonomous mobility requires the complete overhaul and re-engineering of vehicle architecture; one that will deliver a fast, safe and reliable distribution of data and power.
Without smart architectures… nothing will happen.
Isn't it time for the unsung hero to step into the spotlight and be recognized for the role it plays? We couldn't agree more.