When a crisis happens, it's important that everyone in an organization has a clear direction and understands the shared goals. Leaders throughout the organization should feel that the organization has their back as they make decisions to protect employees, their families and communities, while at the same time continuing to serve customers and running operations as efficiently as possible.
The best way to do this is to establish protocols, publish them and make them readily available to everyone in the organization. This provides a roadmap, with a clear checklist of actions to take. But more importantly, it provides a common language and framework – something that leaders at all levels can rely on as they work to ensure safe operations at their facilities. They can feel confident and empowered to take actions and to escalate issues as needed within that framework.
The requirement for a common set of protocols extends beyond the organization's borders, too. A company depends on its supply chain to provide goods and its customers to receive them – and if they aren't able to do so, the company won't be able to produce at its full potential, if at all.
In the early days of the current COVID-19 pandemic, Aptiv recognized the need for such protocols. We had emergency response plans that had been used to address previous crises, such as H1N1 outbreaks, and we significantly updated them to apply to the current crisis. The resulting Safe Operations Protocols are now available publicly.
At the same time, we established a clear chain of leadership focused on COVID-19, from the CEO through the emergency response teams at individual sites. This ensures consistent coordination, communication and execution across all topics related to our COVID-19 response.

Four Levels of Site Pandemic Preparedness
Fundamental to the common language was identifying four levels of site pandemic preparedness. Guided by country-specific mandates and global conditions, the four levels determine every aspect of our protocols, from employee and visitor pre-screening to social distancing to cleaning and disinfection.
Level 1: Preparatory. At this base level, disease incidence is of minimal or no concern for local and country public health agencies. No cases have been identified within the country. Healthy lifestyle habits, good personal hygiene and proper food handling are always necessary.
Level 2: Cautionary. Disease incidence and/or severity is of concern for local and country public health agencies. There have been a limited number of cases in the country, limited or no person-to-person spread, and minimal impact to country infrastructure and healthcare systems.
Level 3: Serious. Disease incidence and/or severity is of serious concern for local and country public health and government agencies. Public health alerts are in effect, public health actions are recommended or mandated, and travel is restricted. There is confirmed evidence of widespread person-to-person transmission in the area, and the country's infrastructure may be compromised.
Level 4: Severe. This is the highest level of the disease, and incidence severity is critically affecting operations. Mandated public health and government measures are in effect, and quarantines are mandated. There is a high incidence of person-to-person spread, infrastructure is compromised, and healthcare systems are overwhelmed.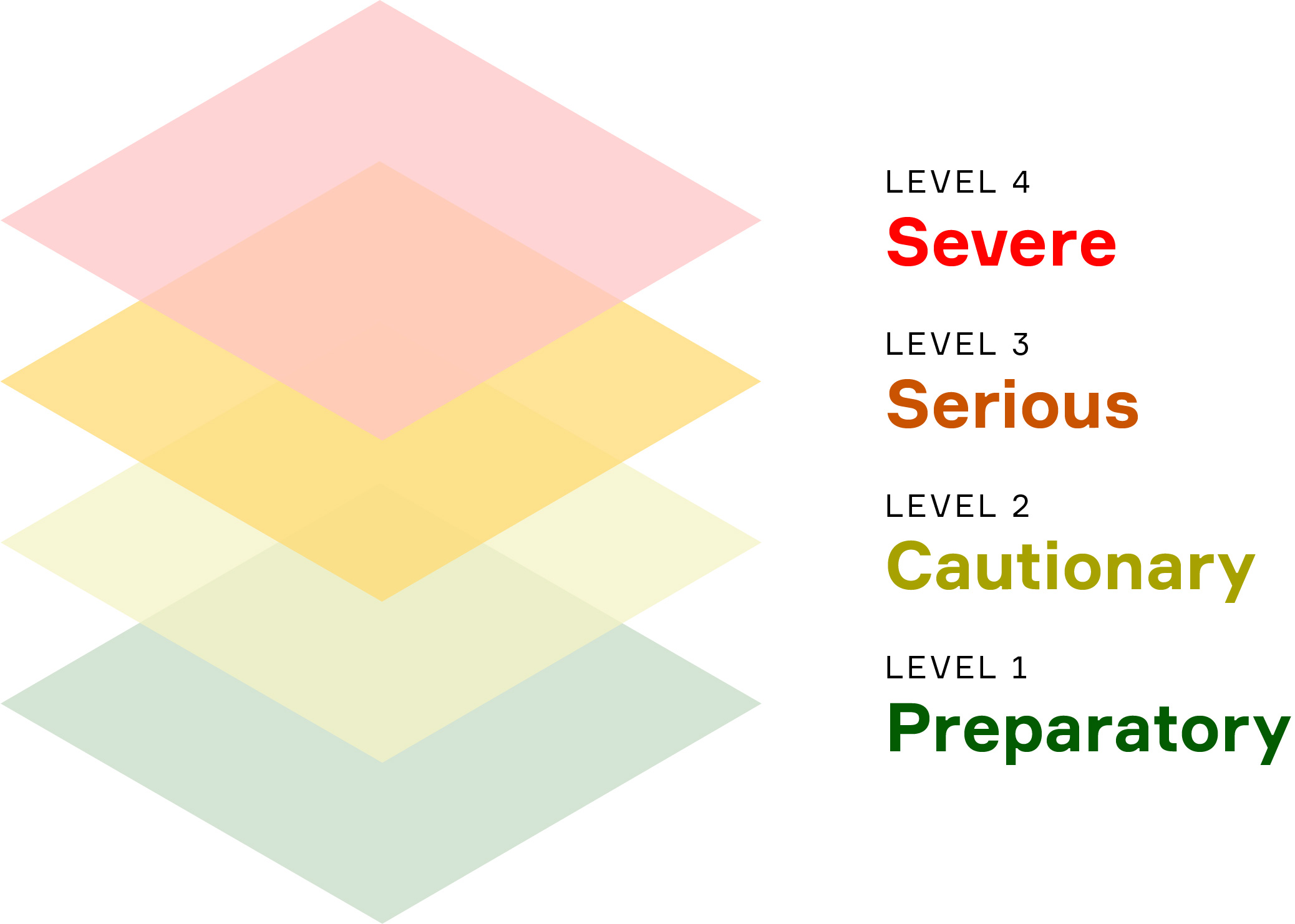 Timing is critical
Knowing when to go from one level to another is key to responding to a crisis appropriately, and organizations that look ahead to what may come next will be better prepared to face the crisis.
As the current pandemic spread, Aptiv took a very cautious approach, issuing a global travel ban in early February and moving sites up a level before COVID-19 actually reached those countries. This "bias for action" encouraged our leaders to take steps to establish a higher level of preparedness, and we experienced fewer cases among our employees as a result.
As we move forward, we will act as one team. By staying transparent, we can stay fully aligned, so no one individual feels like they are on their own in these uncertain times.
Want to learn more about Aptiv's safety protocol and pandemic plan? Download it here.