Sustainability is integral to everything we do, from the products we create to the way we conduct business. Our just-released
2020 Sustainability Report
describes in detail Aptiv's achievements in recent years, from promoting safety in our workplaces to exceeding our environmental goals.
We know that we can do even better, so we have set ambitious goals for the next five years. Our 2025 sustainability commitments fall into four categories: people, products, planet and platform.
People
Our people are Aptiv's greatest asset, and our 2025 goals reflect the value we place in them. We have committed to improving access to opportunities for all of our employees, as we promote a culture of diversity and inclusion, work to identify and close any gaps in pay equity, and require all managers to participate in culture workshops.
Employee health and safety will continue to be our top priority. Our goal is to conduct four hours of safety training per year for every employee and ensure that we improve workplace safety through leading indicators. Our focus on health and safety extends to our supply chain, as we encourage suppliers to safeguard the human rights of their employees.
Aptiv employees are part of the communities we operate in, so we also commit to leading initiatives that give back to our communities in ways that reflect our mission of a safer, greener and more connected world, such as safe driving education, reforestation and empowering girls in technology.
Products
Aptiv's business is creating products that enable customers to democratize active safety solutions that help save lives and prevent accidents. As we look toward 2025, we will continue innovating in the design of active safety systems, delivering products that reduce emissions, and providing seamless, high-speed data connectivity between the vehicle and the world around it.
We also will advance Lean manufacturing in all of our plants to improve product quality while reducing waste. And we will continue to pursue our target of zero incidents of compromised security systems, loss of data or privacy breaches.
Planet
Our commitment to the planet remains a top priority. Our goals include powering our operations with 25 percent renewable electricity by 2025; decreasing CO2 emissions by 25 percent; reducing water consumption, especially in water-scarce areas; cutting the volume of recycled waste; and promoting responsible and local sourcing of materials.
Platform
Finally, Aptiv is committed to the highest ethical standards by always doing the right thing, in the right way. Our target for 2025 is to provide ethics and conflict-of-interest training to 95 percent of salaried employees and to all new salaried hires. In addition, we will conduct annual assessments of financial and regulatory compliance risks, as well as communicate our sustainability efforts to employees and the public.
We cannot solve all of the world's problems, but we are the only provider of both the brain and the nervous system for vehicles, which makes us uniquely positioned to deliver integrated systems that have the potential to reduce traffic fatalities, slash carbon emissions and create a more interconnected, mobile world.
We play an important role as global citizens, with significant potential to improve people's lives – our employees, our communities and drivers who use our technologies. The impact we have on the world is in our hands. By continuing to live by our values, we can ensure that we remain sustainable by design.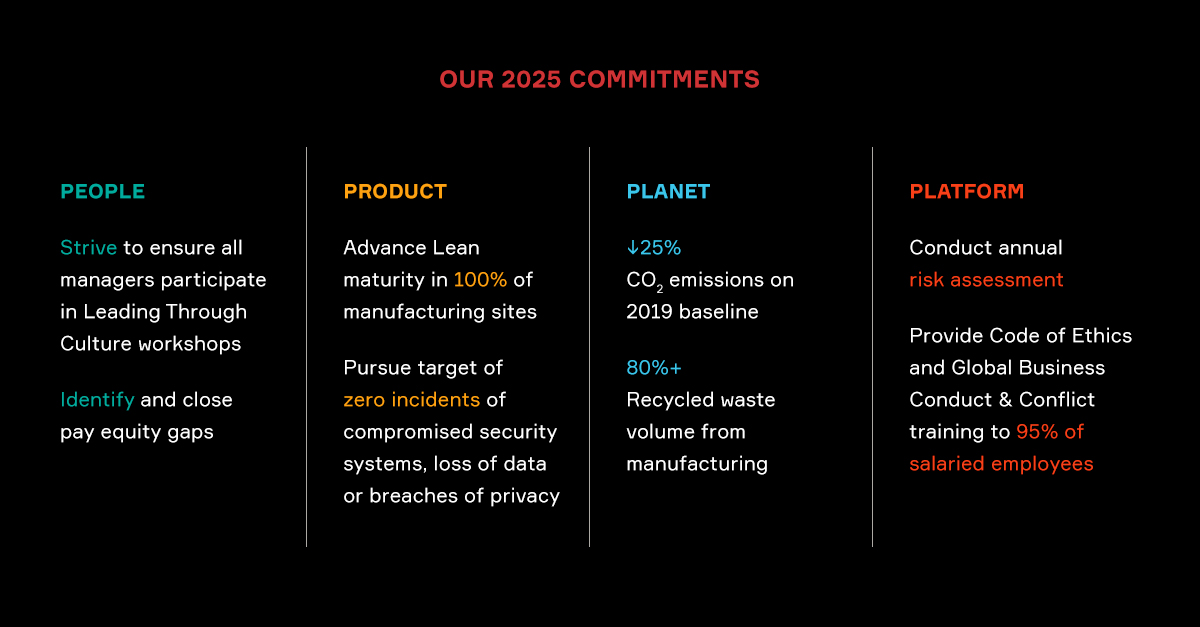 Download Aptiv's 2020 Sustainability Report