A proactive approach is key to unlocking the true value of the connected truck for OEMs
The connected truck is a compelling concept, but it's not a new one. While commercial vehicle (CV) connectivity is now very much the norm, most CV OEMs are barely scratching the surface. By leveraging the data generated by the connected truck, OEMs stand to reap benefits at every stage of the product lifecycle. Crucially, the problem lies not in a lack of raw data, but in turning that data into actionable insights, in real-time, that make an impact on OEMs' most critical business issues.

Counting the cost
Data insights from connected CVs offer game-changing opportunities for OEMs to improve their competitive advantage. First and foremost, this can come in the form of reduced warranty costs. And the potential gains here should not be underestimated. For example, one leading CV OEM recently reported annual warranty costs of $340 million, and there is nothing to suggest that this is exceptional within the industry. In our experience, users of Aptiv's technology could reduce annual warranty and recall spend by $100 – 200 million, depending on their connected vehicle volume. These quoted figures are not just savings in parts and labor. Other areas for potential savings include marketing and communications resources, legal, logistics, and the avoidance of penalties and fees. Just as significant, in an industry where maximizing uptime is an absolute priority, the reputational damage caused by reliability issues will inevitably have profound commercial implications in the marketplace.
Time is money
Warranty costs alone go a long way to explain why connectivity and telematics have been adopted so readily within the CV sector. Yet OEMs are generally frustrated by the inability of existing solutions to squeeze real value from the data generated; too many of the systems currently deployed simply do not deliver the right information quickly enough. The saying "time is money" didn't come out of nowhere. The longer an issue goes either unidentified or undiagnosed in trucks that are out on the road, the longer that fault will be replicated in new vehicles that are rolling off the production line. Not to mention that OEMs incur additional parts and labor costs as they attempt to diagnose the issue
Faster and smarter
Rather than spending hours sifting through the mass amounts of data today's connected truck generates, the key to unlocking the value from this data lies in the ability to filter the right information, at the right time, in the right place. By leveraging the edge computing hardware and software known as Edge IQ, a component of Aptiv Connect Platform, OEMs can do just that. In practice, that means component-level monitoring, at sampling rates some 50 times faster than conventional telematics. Furthermore, this meaningful, engineering grade data is coupled with machine learning techniques, providing far deeper insight. Based on event trigger logic, this data allows OEMs to quickly narrow down what the problem could be, putting them in a position to scrutinize key issues such as transmission shift metrics and energy consumption, or prognostics such as engine emissions and battery health.
Less is more
So just how much unnecessary data does Edge IQ filter out? Typically, we find that only 4% of the information generated by a connected truck is pertinent. What's more, that 4% is summarized locally, at the end of each journey. Which means that it's possible to analyze the root cause of problems, and resolve them much more swiftly. And by concentrating exclusively on the information that really matters, OEMs also benefit with the reduction in data transmission costs associated with a connected vehicle.
Start making sense
Here's just one example of the benefits that OEMs can gain from this real-time, data-driven approach to maintenance. In this case, the problem was a complex, and potentially costly, issue flagged up by the vehicle's O2 sensor. Using a conventional approach, fault finding at the level required would have needed engineers to comb manually through thousands of signals. That's a real needle in a haystack job. But with the benefit of Aptiv Connect Platform, machine learning technology resolved the malfunction much faster. Not only did the system identify the engine speed and air fuel ratio as the factors causing the diagnostic to fail, but it also determined what the precise RPM, engine load and fuel ratio ranges were when most of the failures occurred. And that's precisely the sort of granular detail that would otherwise be lost in an overload of information. Instead, as a result of the early and accurate diagnosis, the OEM avoided the risk of costly downtime, along with potential fines for non-compliance with emission regulations.
At present, most OEMs are simply unable to use their vehicle data this effectively. Consequently, they are paying the price for problems that go undetected or undiagnosed far longer than is necessary. The real value of connectivity will therefore only materialize when technology is deployed that can enable truly preventive maintenance strategies throughout the entire vehicle lifecycle. For OEMs, the benefits of doing so will apply to some of the most vital areas of their business, including reductions in warranty costs, improvements in the quality of product they deliver to market, and a significant boost in their reputation for quality.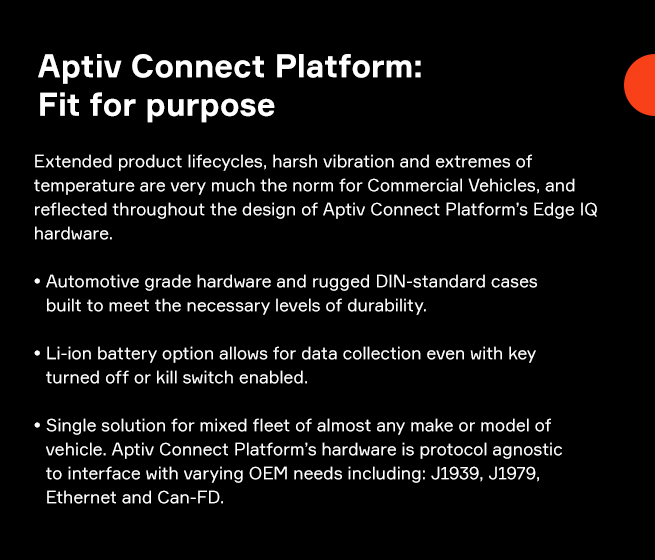 Aptiv Connect Platform is the only solution that captures and converts the right data into actionable insights.