It's no secret the race to fully autonomous vehicles is on, and it's changing the way we utilize transportation globally. But the path to get there relies heavily on two foundational elements – widespread adoption of technological advances such as advanced driver assistance systems (ADAS) and large-scale consumer acceptance of this technology.
In recent decades, consumers have witnessed technological advances that have shifted the way they live their everyday lives. They've experienced vehicles becoming safer, greener and more connected, while being introduced to ADAS technologies. And it's the consumer reliance of this technology that will redefine the future of transportation. With the advances and market growth in ADAS features on the brink of yet another massive disruption to the transportation industry, it's the consumer at the forefront of bringing this technology to the mainstream once again.
As fully autonomous vehicles are being designed, updated and perfected, they are rapidly being exposed to consumers around the globe. While some remain skeptical, others are embracing these safety-enhancing technologies and find comfort in the opportunities it provides. The reality of autonomy remains the future of transportation and is expected to revolutionize the automotive industry.
To understand how consumers are adapting to the concept of autonomous vehicles, Aptiv collaborated with Boston Consulting Group (BCG) to conduct research in the U.S., China, and Germany. Because of exposure to and comfort in ADAS technologies, findings show that more and more people are receptive to the thought of owning an autonomous vehicle.
While consumer acceptance of autonomous driving in on the rise in the U.S. and Germany, it's China that could take the biggest leap forward in the adoption of self-driving vehicles. Survey findings conclude Chinese consumers are nearly twice as trusting of self-driving cars as their U.S. and German counterparts, with 84 percent of Chinese consumers likely to buy an autonomous vehicle for their next purchase.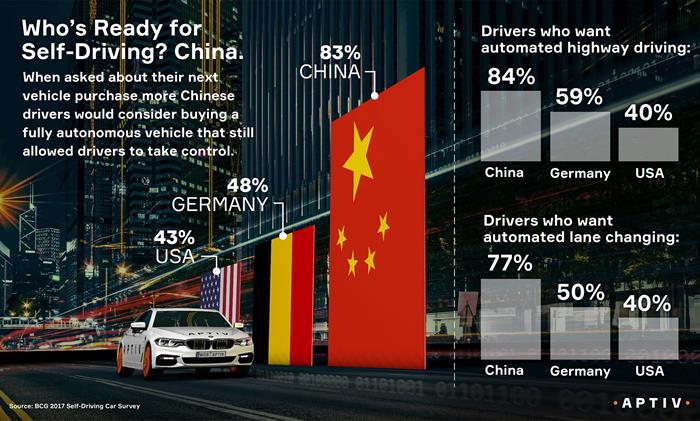 What's most surprising though is the trust in these safety-enhancing technologies that will get us to full autonomy. Today, consumers in the U.S., China and Germany are most familiar with ADAS features such as blind spot monitoring, lane departure warning systems and parking assistance features. While these smart technologies have driven us closer to fully autonomous vehicles across the globe, it also allows drivers the comfort and control they desire when getting behind the wheel.
While 40 percent of people in the U.S. and 59 percent of German consumers said, they are likely to buy an autonomous car for their next purchase, only 30 and 40 percent, respectively, are interested in a vehicle without a steering wheel, accelerator and brake. Conversely, 71 percent of Chinese consumers are interested in a self-driving vehicle not equipped with a steering wheel, accelerator or brake – key components that allow users to take over control of a vehicle if needed.
As technology and mobility companies, alongside automakers and suppliers, work tirelessly to design, engineer and enable solutions that bridge the gap between ADAS to autonomous driving, it's critical that data and observations are collected on the user experience of those engaged with these technologies.
During CES 2018, Aptiv partnered with Lyft to bring autonomous ride-hailing to every day consumers on the streets of Las Vegas. Putting every day consumers inside autonomous vehicles allowed users to experience and appreciate first-hand the capabilities of this technology. In turn, the pilot program generated consumer and market insights into how users interact with autonomous vehicles. The program, which provided more than 400 rides to the public, resulted in a 4.997 average ride rating (out of 5-stars) with nearly every passenger expressing they were extremely likely to take another self-driving ride in the future – which they can now do.
Aptiv recently announced the launch of a fleet of autonomous vehicles in Las Vegas. A product of the company's Mobility and Services group, these vehicles will operate on Aptiv's fully-integrated autonomous driving platform and be deployed in a commercial service. Rides in 30 Aptiv autonomous vehicles will be available to the public though the Lyft ride-hailing application on an opt-in basis. This partnership is the start of a multiyear agreement between the two organizations and a clear step forward to the path toward commercialization of Aptiv's autonomous driving business.
Through programs like this, companies are gathering the nuggets of information needed to ensure all concerns and doubts are addressed. Once the industry fully adopts ADAS technologies and consumers become more accepting of this change, companies can soon begin shifting the way we think about transportation to how it's deployed.