Imagine this. It's your first day on the job as a commercial truck driver. There is torrential rain outside. Your visibility is severely limited, and you are just about to make a right turn. The road looks clear. As you are about to release your foot from the brake, a warning flashes, and your vehicle doesn't move forward. It has detected a cyclist who just crossed in front of your path – avoiding a potentially deadly accident and saving a cyclist's life.

Welcome to the age of the smarter, safer truck.


Today, a host of technologies, like the one described above, are being deployed by commercial fleet owners, including advanced radar to detect nearby pedestrians or cyclists; blind spot detection systems to alert drivers of otherwise hidden vehicles; radar and camera systems to assess the range or distance of objects on the road; and emergency braking, which can stop a vehicle even if the driver doesn't.
These technological developments make roads safer and allow commercial vehicles (CV) to react faster to danger, helping to significantly decrease the severity of crashes - in some instances - even preventing accidents completely.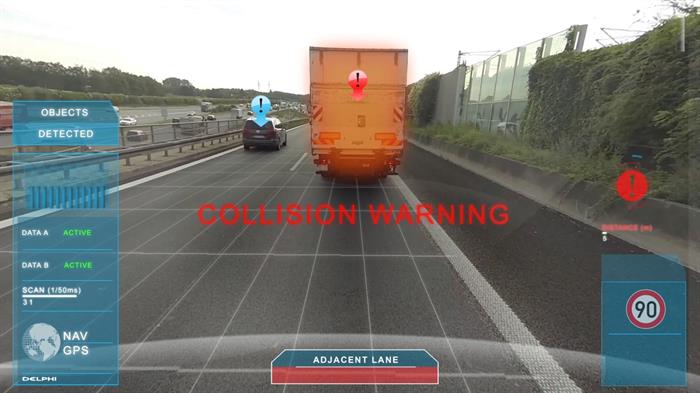 Aptiv's unique approach to vehicle safety

When it comes to deploying advanced safety and sensing technology in the commercial market, Aptiv is leveraging its extensive experience and expertise in advanced driver-assistant systems (ADAS) and automated driving systems to supply autonomous emergency braking, lane departure warning and blind spot detection for the heavy duty and medium duty (HDMD) truck market.
We continue to enhance our portfolio of industry leading sensor technologies including fifth generation short-range radar, third generation mid-range radar, and vision sensors for glare-free high-beam systems and traffic sign recognition. This portfolio can provide full 360-degree radar coverage fused with vision systems and combined with V2X feedback to improve vehicle safety.
Aptiv has the expertise required to combine these advanced perception systems with scalable software and computing platforms to achieve full vehicle safety.
Making the roads safer is a shared responsibility

In many countries there has been public debate on how advances in safety technologies should be applied in trucks and commercial vehicles. And the good news is that the ongoing mission to make our roads safer is a responsibility shared by many.
In order to try and decrease accidents on the road, a number of governments have acted, changing regulations and increasing mandates, driving a proliferation of new technologies. Take the European Union for example, which has mandated that automotive manufacturers fit ADAS-like lane departure warning systems and autonomous emergency braking systems in all heavy commercial vehicles weighing more than 7,000 kilograms. A mandate on pedestrian and cyclist collision warning systems is expected in coming years.
There has never been a better time to do than to embrace these new technologies that are helping keep our roads safer. To learn more about Aptiv's involvement, we will be attending the IAA Commercial Vehicles Forum in Hannover Sept 20 -27 | Pavilion 11