When you think about Aptiv, vintage race cars are probably not the first thing to come to mind. And for good reason, we're in the business of future mobility. But, Aptiv has a rich automotive heritage, and some of its engineers would say they have racing fuel in their blood.
That's what led Dominic and Florian to bring together a team of employees – five systems engineers and a communications specialist – to spend more than 300 hours of their free time refurbishing a 1989 Porsche 944. After months of technical work, the team took their Porsche and its turbo engine to the Nürburgring Nordschleife for a weekend of engineering, racing, and team building.
Ready to Race
The legendary Nürburgring track is a place for all motorsports enthusiasts, and the team enjoyed the "Young Timer Trophy" race. From qualifying rounds to the three-hour race, the team had a full agenda and one mission - WIN.
First things first, however. What does every race car have? Decals or stickers – and lots of them. Theirs was no different, branded with the Aptiv logo. After that, they ran through their pre-race quality check, like the tires and driver's seat – safety is always the upmost priority. Once complete, they were ready to run the qualifying round.
Once in the pit lane, excitement grew as they were about to watch results of all the hard work. The Aptiv Porsche started in 33rd place out of 220, and arrived third best in the Porsche 944 class. A hopeful sign for the next day's events.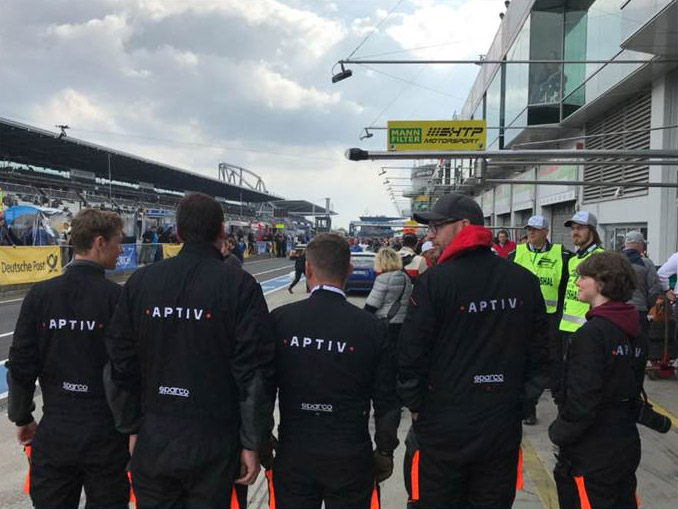 Everyone wore their Aptiv suits with pride. Ready to race.
Day 2
Off went the flags, and the wheels devoured the tarmac. The Porsche performed extremely well – 21st place overall and second in its class.
Unfortunately, two hours into the race, the turbo proved too much for the older engine, and it had to head back to the pit lane. So, while the vehicle wouldn't see the checkered flag this time, the team still wholeheartedly agreed that it was an unforgettable first experience, and the collaborative teamwork was a priceless experience for all.
Making of a race car and its team
This race car represents Aptiv's can-do spirit, teamwork, and pure, shared passion for everything automotive. Whether vintage or futuristic, team Aptiv lives and breathes mobility.
After the 2018 Nürburgring "Young Timer Trophy" in May, the Porsche is now back in the garage and being prepped for other events. The six-person team? They are also in the garage – preparing and dreaming.