Consumers weigh many factors when they buy a vehicle, including advanced safety features, fuel economy and connectivity, to name just a few. But just as important is how the vehicle makes them feel — and nothing evokes feeling quite like music and sound. That is why automakers put so much effort into ensuring that their vehicles' audio systems sound the best that they can.
However, delivering a premium, brand-defined sound experience can be quite challenging, given vehicle acoustics. Vehicle cabins are covered in a variety of highly sound-absorbent materials and can include up to 30 speakers placed wherever there is available space.
To cost-effectively create the optimal sound experience — one that can be scaled across multiple programs, generations and head units, and evolve over time — manufacturers need to own parts of the control code and the tooling to tune their audio software according to the cabin configuration of each vehicle model. This requires a flexible approach, deep expertise in digital signal processors (DSPs) and software that is decoupled from hardware.
DSPs in automotive applications
DSPs use mathematical algorithms to electronically alter real-world signals before routing them to the appropriate output devices. DSP tuning enables OEMs to build differentiating audio capabilities, such as voice recognition, noise cancellation and surround effects. It even allows for tuning the engine sound according to the brand — such as providing a high-performance experience for sport models or ultraquiet for luxury models.
Most system-on-a-chip suppliers, however, originate from the smartphone ecosystem and lack the needed DSP expertise to address the challenging environment of a car's interior. As a result, they are ill equipped to handle the increasing complexity of vehicle sound systems, which can include multiple speakers, car telematics, voice recognition and audio navigation.
Decoupling software from hardware
Delivering the best sound experience requires many fundamental audio elements to work together, including the DSPs, audio management, control logic, and tuning and calibration tooling. When so many interconnected software pieces are tied to hardware, it is challenging for OEMs to make changes between models and create a unique, brand-defined sound signature.
With the appropriate DSP expertise, OEMs can centralize audio processing in a domain controller — as opposed to distributing the processing among external audio amplifiers — to decouple their audio software from the hardware. This approach allows the software to be more scalable and portable, and more easily moved from one platform to another. In addition to enabling more flexible development, decoupling can reduce complexity and development costs by up to 20 percent.
End-to-end software audio stack
Aptiv Sound Framework spans the end-to-end software audio stack and decouples the development process from cabin tuning, thus increasing scalability and eliminating redundancy by reducing software variants from 40 to one and shortening the time to market from four years to as little as one.
Aptiv has deep domain expertise in DSP technology to address the need for audio processing capabilities in the automotive industry, and we were the first to market with a framework that centralizes audio processing in the domain controller. We empower OEMs to build differentiating effects and flexibly adjust the sound behavior based on individual vehicle and user configurations, independent of third-party support.
Legacy approaches often result in extensive design work and limit OEM flexibility throughout the development process. Our open development framework allows our OEM partners to own parts of the control code and the tooling, build on Aptiv's core software, save time with our turnkey solutions, leverage our comprehensive development and integration services — and, above all, create a differentiated user experience. Read the full Aptiv Sound Framework case study to learn more.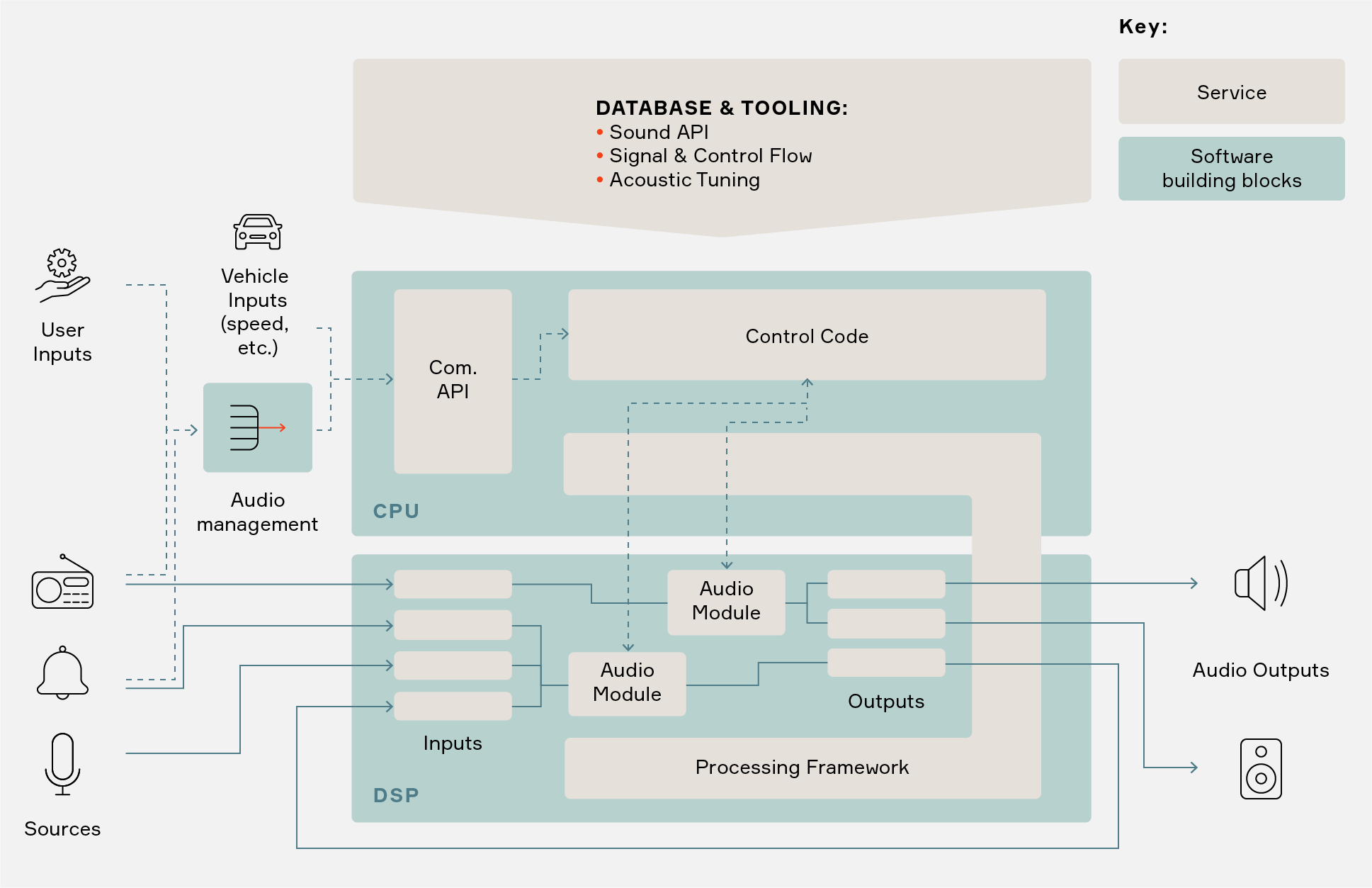 Aptiv Sound Framework logical architecture