Despite decades of advancements in automotive safety, too many drivers and passengers are still injured or killed in motor vehicle accidents annually.
The problem, in short, is us: 94 percent of motor vehicle accidents in the United States are caused by unimpaired driver error, according to a 2016 study from the National Highway Traffic Safety Administration.
Highlighting the need for new solutions, the last two years have seen a disturbing trend toward increasing traffic fatalities – despite decades of safety improvements.
One of the main reasons behind the industry's advancement towards autonomous vehicles is taking human error off our roads. At Aptiv, our goal is to significantly reduce the number of car accidents and fatalities.
Improving Safety Today
But until we achieve fully autonomous vehicles, we are implementing advanced safety technology in the vehicles on the roads today. One of the important technologies helping to prevent crashes is vehicle-to-vehicle (V2V) communications.
In simplest terms, vehicles with V2V technology are electronically linked to one another. Eventually, those vehicles will be linked to the Cloud as part of the greater trend towards the Internet of Everything (IoE).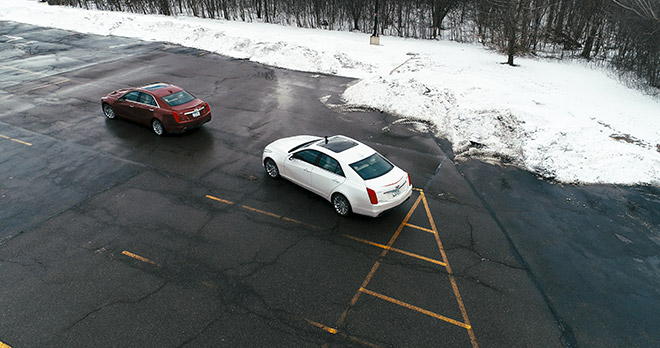 Aptiv is the first to bring V2V to market with the introduction of V2V modules using Dedicated Short-Range Communications (DSRC) in the 2017 Cadillac CTS
ADAS Before Autonomy
And even before fully autonomous vehicles come to market, V2V communications can help reduce traffic accidents thanks to recent introductions of advanced driver assist systems (ADAS).
ADAS features, already in vehicles today and seen as an iterative step toward autonomous vehicles, allow vehicles to:
Automatically slow down when approaching an obstacle or stopped vehicle on the road
Alert drivers when they drift out of lanes
Alert drivers to objects in their blind spots
While these technologies have been in production for a few years, they only work within the confines of each vehicle.
But with V2V, vehicles can not only "talk" to other vehicles on the road, but in conjunction with emerging ADAS technology, they could send signals to other vehicles of an accident, traffic slowdown or other hazardous conditions. In turn, those drivers would be alerted and the vehicles could slow down automatically.
To illustrate, imagine your family cruising down a rural interstate in near freezing conditions. Up ahead, beyond what the driver can see, there's a spinout from black ice. Those vehicles equipped with V2V and ADAS could be notified of the accident, signal the driver and even slow the vehicle automatically before arriving on the scene of the accident.
Importantly, unlike the cameras or radar systems of emerging autonomous vehicles, V2V isn't limited to what the vehicle can "see" around them. This greatly increases awareness of driving conditions because V2V isn't limited to line of sight like other sensors.
Another Aptiv First
Aptiv is the first to bring V2V to market with the introduction of V2V modules using Dedicated Short-Range Communications (DSRC) in the 2017 Cadillac CTS. The Aptiv module is the first FCC-certified commercial product in North America, as well as ISED in Canada and IFT in Mexico.
The system can handle as many as 2,000 messages per second. These devices can also receive messages from over 200 other vehicles at a time. The software assesses and calculates risks to vehicle occupants and then warns drivers to help avoid accidents or other hazardous conditions.
The potential safety benefits are so tremendous for this technology that the U.S. government is proposing rule-making for new Federal safety standards potentially mandating V2V communications in all new vehicles by 2023.
The Road to Autonomy
In addition to the LiDAR, radar and cameras required of autonomous vehicles, V2V will also be mandatory on any autonomous driving system. But even before we see the benefits of fully autonomous vehicles on the road, the potentially enormous life-saving benefits of V2V technology – working in conjunction with ADAS – could help reduce injury and fatalities today.