Integrated infotainment units running Google's Android Automotive OS will create a platform for vital fleet management tools, along with a more engaging user experience for drivers.
Virtually every aspect of daily life is being transformed by ubiquitous mobile connectivity and 24/7 availability of apps and online services. The commercial vehicle (CV) cabin is certainly no exception, with evolution to a truly digital working environment for drivers now well underway.
Moreover, that transformation is set for another boost, in the shape of Google's Android Automotive OS. Despite the similarity of its name, this is a distinctly different proposition to Android Auto, which is already a familiar feature in many vehicles. Significantly, when teamed with the latest integrated infotainment units, Android Automotive will ensure fast, seamless access to an open source ecosystem that encompasses a wealth of CV-focused fleet management tools that can enhance productivity and efficiency. What's more, drivers will enjoy a richer and more responsive infotainment experience within the cabin.
Going beyond Auto
Originally announced in 2017, Android Automotive will begin appearing in new vehicles in 2020, and undoubtedly marks an important step forward. Back in 2014, the introduction of Android Auto certainly brought a well-known, intuitive interface into the cabin, and easier access to a vast and continuously updated app store. However, it remains dependent on the presence of a separate smartphone or mobile device, enabling Android to be projected onto the head unit.
Compelling benefits for fleet managers, OEMs and drivers
With the arrival of Google's latest automotive-specific OS, it becomes possible to integrate all the benefits of the Android ecosystem directly into the infotainment head unit itself. For CV fleet managers, that represents a powerful asset. In a fiercely competitive commercial environment, they are increasingly reliant on fleet management systems to help maximize vehicle utilization by identifying optimal routes. Because it establishes a portal to the world's leading third-party app store, Android Automotive will eliminate the need to deploy dedicated hardware and software within vehicle cabins to support such fleet management tools. Instead, they can be accessed via the built-in infotainment unit, without any requirement for additional investment by operators.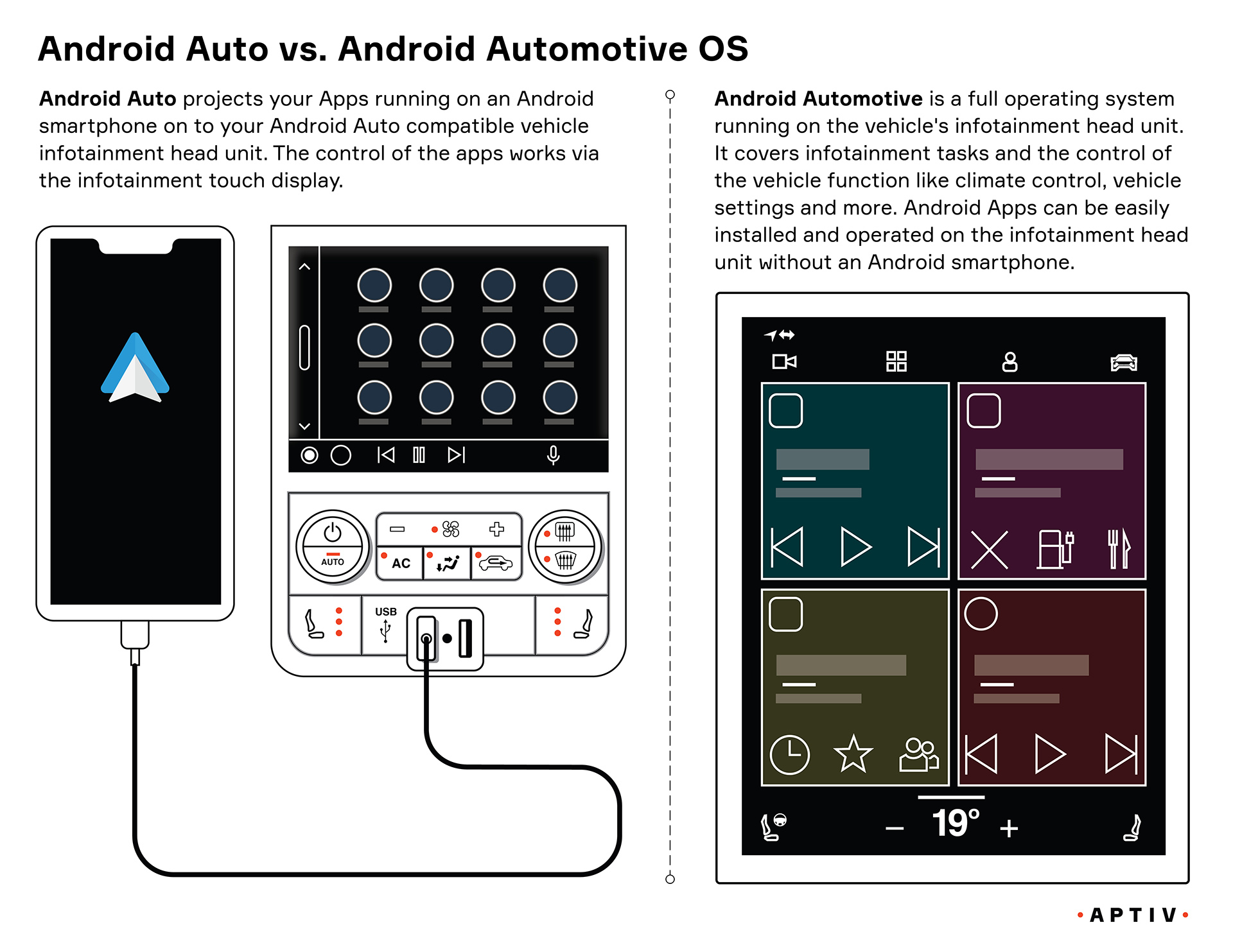 Android Automotive is an important win for OEMs too. To date, the relatively low production volumes within the sector have made it harder to secure a reasonable return on expenditure on proprietary OS or apps such as CV-specific sat nav and real-time geolocation of truck stops and weighbridges. With Android Automotive, OEMs can offer customers the undoubted advantages and added value of a popular and proven interface, and the gateway to Google's app ecosystem. At the same time, they avoid the additional burdens of developing and maintaining proprietary OS and apps.
The significance of a more rewarding environment for drivers should also not be overlooked. In many parts of the world, recruitment and retention are becoming a real challenge for fleet managers. Android Automotive ensures that access to favorite apps, media channels and other digital services is no longer dependent on the presence of a separate mobile device in the cab.
Partnering for change
From the outset, Aptiv has worked as a lead device partner with Google in the development of Android Automotive, providing the hardware reference platform and an in-depth understanding of how to deliver high quality infotainment solutions in the unique environment of a vehicle cabin. Consequently, Aptiv will be first to market with units running the new OS, when Volvo's all-electric spin-off brand Polestar launches in 2020. For OEMs in the CV sector and beyond, that means no one is better placed to support migration to a new age of infotainment system.
The partnership with Google reflects the fact that, in the CV sector, Aptiv is well established as a leading supplier of infotainment head units that not only meet all the latest requirements in terms of connectivity protocols, but are also specified to the exacting requirements of a commercial vehicle. Furthermore, Aptiv similarly leads in terms of the bigger picture for the in-cabin user experience. The company is already offering OEMs a product range that encompasses all the key technologies here, including a comprehensive range of active and advanced safety systems, and ICCs (Integrated Cockpit Controllers) that represent the most efficient platforms on which to build CV cabin environments that are safer, smarter, and better connected than ever.