Boston drivers have a reputation.
Between frequent double parking, spontaneous lane changes, and the famous "Boston left," they treat the rules of the road as mere suggestions. Drive a few blocks in the city, and you'll quickly learn—through creative gestures and language—what others on the road think of your driving skills. Above all, in Boston, we're always—always—in a hurry.
While the accuracy of these stereotypes is debatable, what's certain is that Boston's road network is one of the most challenging and complex in the United States.
For the past 18 months, nuTonomy's AVs have been racking up miles in Boston's Seaport District, sharing the road with Boston's famous drivers, plenty of delivery trucks, and even a few errant seagulls. In close coordination with the City of Boston, we've executed a test plan that has seen our vehicles safely tackle increasingly complex driving conditions, in day and night, through rain, sleet and snow.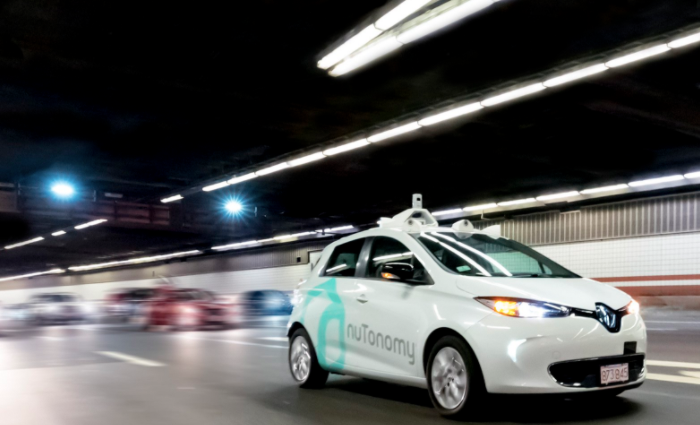 Today, I'm pleased to announce that the City of Boston has granted nuTonomy, and our parent company Aptiv, permission to operate autonomous vehicles on public roads city-wide in Boston. To be the first (and only) company to be allowed to test city-wide is a testament to our exceptional safety record, and our team's focus on building the world's safest and smartest driverless vehicle software. We thank Mayor Walsh for his partnership and vision in creating a more connected Boston. His dedication to improving the efficiency and safety of transportation drives our community closer to achieving the goals of Go Boston 2030. Additionally, it's with the support of Governor Baker and MassDOT that nuTonomy and Aptiv have been able to succeed in working toward our own mission of safer, more accessible transportation in cities worldwide.
When nuTonomy joined Aptiv in 2017, we were thrilled to be part of a company that shared our forward-thinking vision that autonomous vehicles would change the face of urban transportation. nuTonomy put down roots in Boston and Singapore—two cities with diverse infrastructures, weather conditions, and populations—and were the first to test AVs on public roads in both cities. In each city, we were also the first to launch Automated Mobility on Demand pilots, partnering with transportation network leaders in North America (Lyft) and Asia (Grab) to offer rides to the general public. In Las Vegas, Aptiv is currently operating a commercial program that allows Lyft customers to hail a self-driving car powered by Aptiv's autonomous driving platform.
Around the globe, Aptiv and nuTonomy have worked closely with civic leaders to ensure that our vehicle testing is accomplished in a safe, responsible, and transparent manner. In our continued partnership with the City of Boston, we are committed to sharing the results of our driving experience through quarterly reports that are made available to the public. We're also actively working with the City of Boston and partners to conduct demonstrations and educate new audiences on the promise of autonomous vehicle technologies. Lastly, we've taken the initiative to make freely available a valuable dataset (called "nuScenes") that will allow individuals and groups to improve their own driverless vehicle software.
Today's announcement is a milestone on our path to deploying a safe, reliable commercial autonomous vehicle service in Boston and beyond.
---
Want to join our team? Visit our Careers Page