Abraham Lincoln famously said that "the best way to predict the future is to create it." At Aptiv, we've adopted these words as our mantra.
It's just not in our nature to be reactive, to sit at the sidelines waiting for our name to be called. If life isn't a spectator sport, then neither is the work of improving lives. We enable the future of mobility by designing, envisioning, engineering and creating solutions that will shape how the world will move tomorrow. And that doesn't happen by accident. It happens when you have the right team working on the right things at the right time.
This spirit of innovation is something we wholeheartedly celebrate. One of the ways we do this is through Aptiv's Innovation Hall of Fame. In a tradition we started in 1995, we gather engineers from around the globe and formally recognize them for their contributions that are solving mobility's toughest challenges and are having a real impact on lives today. Our inductees hold multiple patents, trade secrets or have authored defensive publications.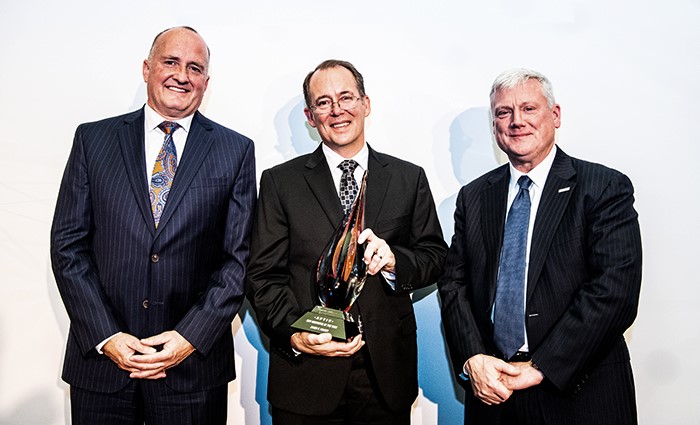 Innovators
This year we held the event in Wuppertal, Germany – recognizing 33 engineers for their groundbreaking work.
We inducted eight engineers into our Hall of Fame this year, and promoted three to a higher level of recognition within the Hall of Fame (we have six levels – induction, bronze, silver, gold, platinum and diamond). Combined, this year's Hall of Fame honorees hold 584 unique patents. They join the 144 innovators who already have a place in the Aptiv Innovation Hall of Fame, with their own plaque on display in three of our tech centers across the world – Shanghai, Troy, and Wuppertal.
A special recognition goes to James F. (Rick) Searcy, our 2019 Innovator of the Year award. He has been a key player in advancing Aptiv's radar portfolio over the last 20 years – going all the way back to the first radar in a car. Rick's leadership and passion for results were instrumental in Aptiv's 2017 PACE award for our 76GHz short-range radar innovations. He is an inspirational leader and mentor, and a true pillar both within Aptiv and across the automotive radar industry.
In addition to recognizing the individuals who are making an extraordinary impact, we also celebrate the teams that are developing the software algorithms, hardware products and lean processes that drive meaningful and measurable contributions to such a fast moving industry. This year, our Technology Solutions Awards go to the teams that developed Aptiv's Mid Range Radar 3 (MRR3) and Solid State Electrical Centers.
Mid Range Radar 3 (MRR3)
The revolutionary MRR3 technology reinforced Aptiv's position as the leader of affordable, high-performance, forward looking long-range radar solutions. It's built upon Aptiv's Electronically Scanning Radar 2.5 (ESR) launched in 2013, delivering on the performance levels but at a lower cost. This dedication to continuous improvement is enabling the democratization of advanced safety.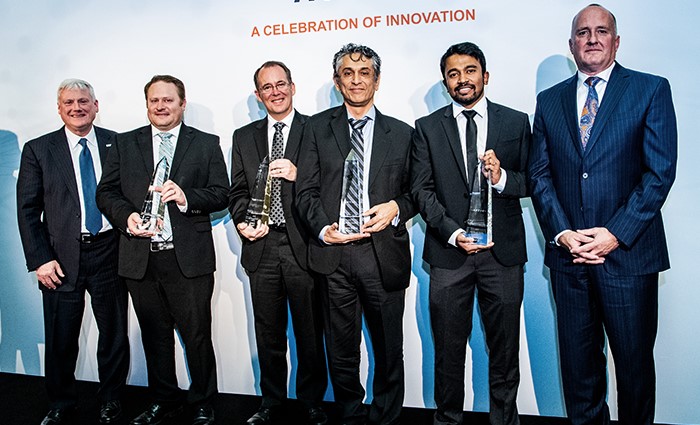 Solid State Electrical Center
As the safe, green and connected content in the vehicle continues to grow, so do the power requirements. Traditionally, these power requirements are delivered through electromechanical electrical centers. With the introduction of Solid State Electrical Centers, Aptiv leverages its expertise in electronics to transform this technology. The groundbreaking Solid State Electrical Center is a building block of Smart Vehicle Architecture™, and enables the functional safety requirements of the highly-automated vehicles of the future.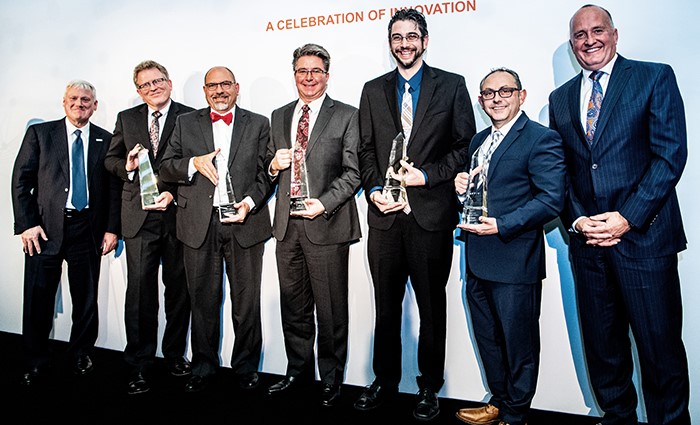 We are part of a company that truly understands engineering, providing the right environment to foster fragile innovations as they emerge from great minds. To be surrounded and encouraged by peers who form a community of innovators is very powerful. We look forward to the next game-changing technologies that will take Aptiv and the world to new frontiers.
Please join me in congratulating this year's honorees. #ItsOurMove