The automotive industry is undergoing a massive transformation with an increasingly fragmenting customer base, driven by millennials that will make up 75 percent of the three billion global workforce by 2025. Car ownership is being replaced with shared mobility options in favor of environmental sustainability and cost-effective options. These emerging trends are driving the automotive industry to embrace change, innovate and rethink the way they do business.

Smart mobility is bringing in a flexible, multi-modal transport system that includes autonomous fleets and vehicle electrification. This on-demand business model offers customized, vehicle-mileage-based pricing. What does this mean for consumers? They will be able to adjust their transportation costs based on their individual needs. Mobility-as-a-Service (MaaS) can save US households $500 billion annually, considering a 100 million households on average with each one saving $5,000 every year. The outcome for the automotive industry? Morgan Stanley reported that autonomous cars could contribute $1.3 trillion in annual savings to the US economy alone, with global savings estimated at over $5.6 trillion.

Smart mobility is a powerful tool to achieve a more sustainable automotive future, benefiting the individual, the society and the industry.
Individual benefits:Societal Benefits:
Air Pollution caused by CO2 emissions can be reduced by as much as 300 million tons per year.

Platooning of vehicles could ease traffic congestion and increase highway capacity by as much as 500% percent.

The growing ageing population of about 50 million people and about 5 3 million people with disabilities in the US can be enabled to move independently.
Industry Benefits: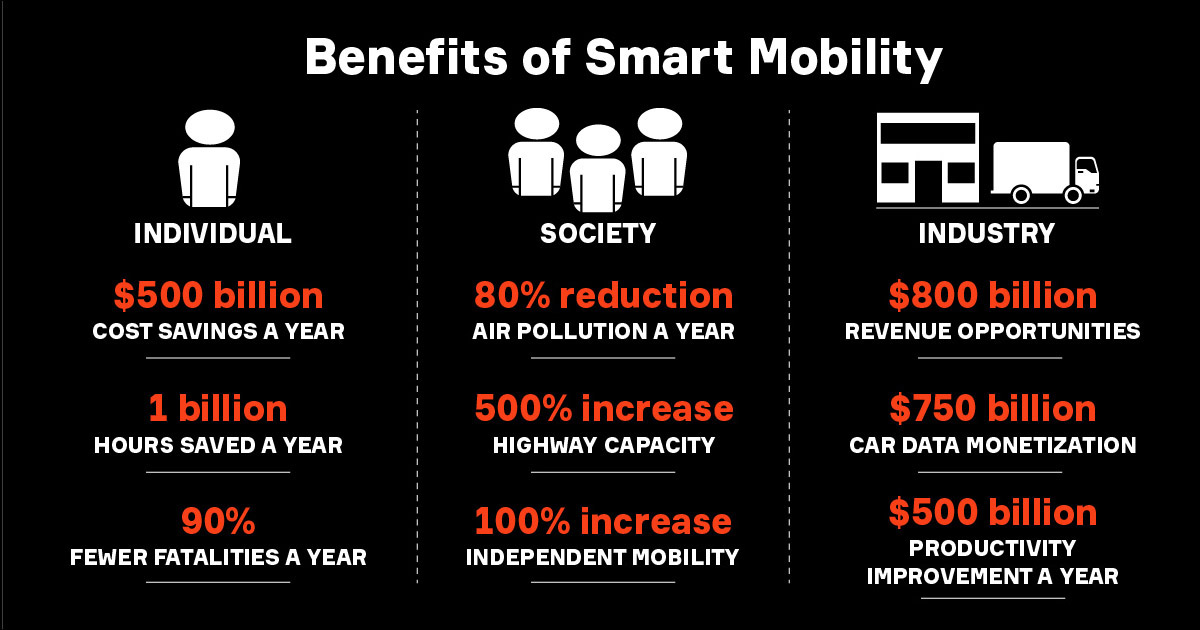 The automotive industry has not changed much since the Henry Ford's days, it is a great time to be alive where we have a unique opportunity to reshape transportation for the next hundred years. Mobility-as-a-Service takes our freedom of movement to the next level by providing on-demand mobility services, any time, any place and with any mode of transport.