On National First Responder Day, we want to thank these civil servants for all that they do, and take a moment to reinforce our commitment to ensuring they have a seat at the table in defining the future of self-driving mobility.

Earlier this month, the Aptiv team hosted local fire departments and police departments at our Las Vegas and Boston technical centers. The goal of these meetings was to better understand how they interact today with manually driven vehicles and begin testing how they might interact with autonomous vehicles in the future.

At Aptiv, we believe that self-driving vehicles must act and feel like safe human drivers. We expose our autonomous systems 24-hours a day to a wide-range of variables, such as weather, cultural driving patterns, pedestrians, cyclists, and other road users, including first responder vehicles. Just as safe, human drivers know how to interact with first responders, it is critical that our self-driving cars do too.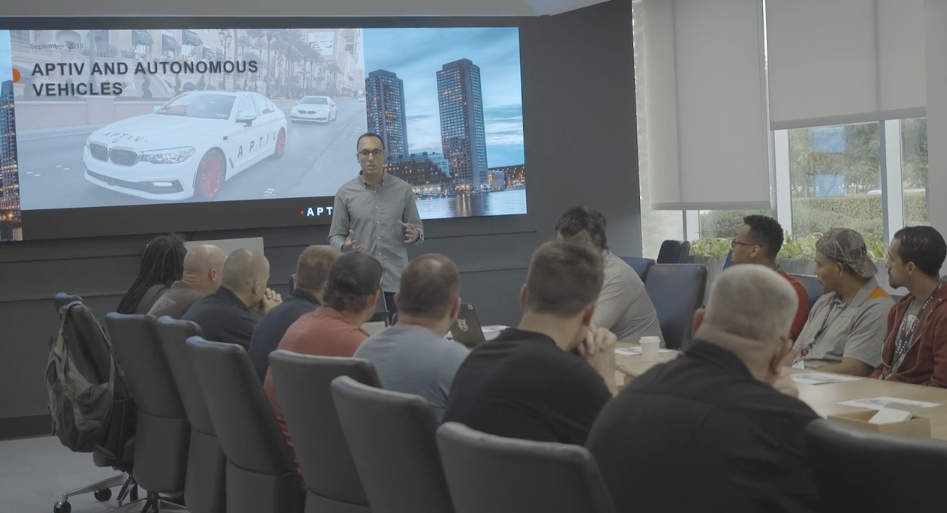 In Las Vegas, we tested our Aptiv self-driving vehicles on the road with the Clark County Fire Department and the Las Vegas Metropolitan Police to collect visual data so we can best prepare our autonomous technology to respond to active emergency vehicles. We crafted eight scenarios that encapsulated a majority of the most common emergency vehicle interactions, including takeovers, vehicle cut-ins and pullovers. We generated nearly a terabyte of data that will be used to ensure our self-driving cars properly detect and pull over for emergency vehicles.
The Aptiv team in Las Vegas has also participated in meetings with the Nevada Traffic Incident Management (TIM) coalition as well as the International Association of Chiefs of Police (IACP) for the Western United States to educate them on autonomous technology.
In Boston, we continue to work with the City of Boston, MassDOT, and representatives from the Boston Fire Department and Police Department to develop mutual best practices for first responders' interactions with self-driving cars on public roads.
At Aptiv, we are committed to ensuring that on-demand driverless vehicles benefit cities and their citizens. To do this, we will deploy self-driving cars in close collaboration with government officials, the communities that use automated transportation, and the employees who help keep our cities safe – including our first responders.
Today, we are especially grateful for all that our first responders do for our communities and look forward to continued collaboration as we work to create safer cities worldwide.