Automotive consumers have embraced vehicle connectivity, and so have automakers: Some estimates put the potential value of connectivity as high as $750 billion worldwide by 2030. But for any vehicle connectivity solution to be successful, it has to have three key elements: flexibility, intelligence and financial benefits.
Flexibility
First, the solution must be highly flexible, meaning it should allow an OEM to quickly adapt it to various configuration requirements depending on its unique objective. The solution should:
Work with whatever cloud platform the OEM chooses. Aptiv's solution is cloud-agnostic, whether the preferred platform is an OEM's proprietary cloud, Amazon Web Services, Microsoft Azure, Google Web services, fleet SaaS applications or other clouds.
Provide an intelligent multi-platform edge client. Aptiv made the Connect Edge client software compatible with most Linux-based hardware units.
Give developers APIs that enable them to build functionality upon it. We know that OEMs are looking to integrate with third parties, so our APIs enable developers to integrate rich vehicle data into their applications and those from many different mobility SaaS providers.
These features allow OEMs to tailor the solution for their particular needs and then scale it quickly.
Intelligence
Second, the solution has to be intelligent enough to provide meaningful insights.
Aptiv provides end-to-end preproduction hardware and software validation solutions for more than 70% of the world's leading OEMs. We have deep domain expertise into what data really matters inside a vehicle. Forget the haystack – we know where to find the needles and do it efficiently. With that knowledge, we can send just the critical pieces of data to the cloud, rather than all data.
The solution is configurable as well, so that OEMs can dynamically collect low-density yet high-value data during normal conditions, but shift to high-density campaigns on a subset of vehicles to help identify and diagnose issues – down to highly specific systems. Data is encrypted and privatized to ensure the security of drivers, owners and OEMs.
In addition, our device can automatically determine the electrical architecture and the features that are installed on the vehicle by reading its VIN – which means it knows what data to collect and analyze.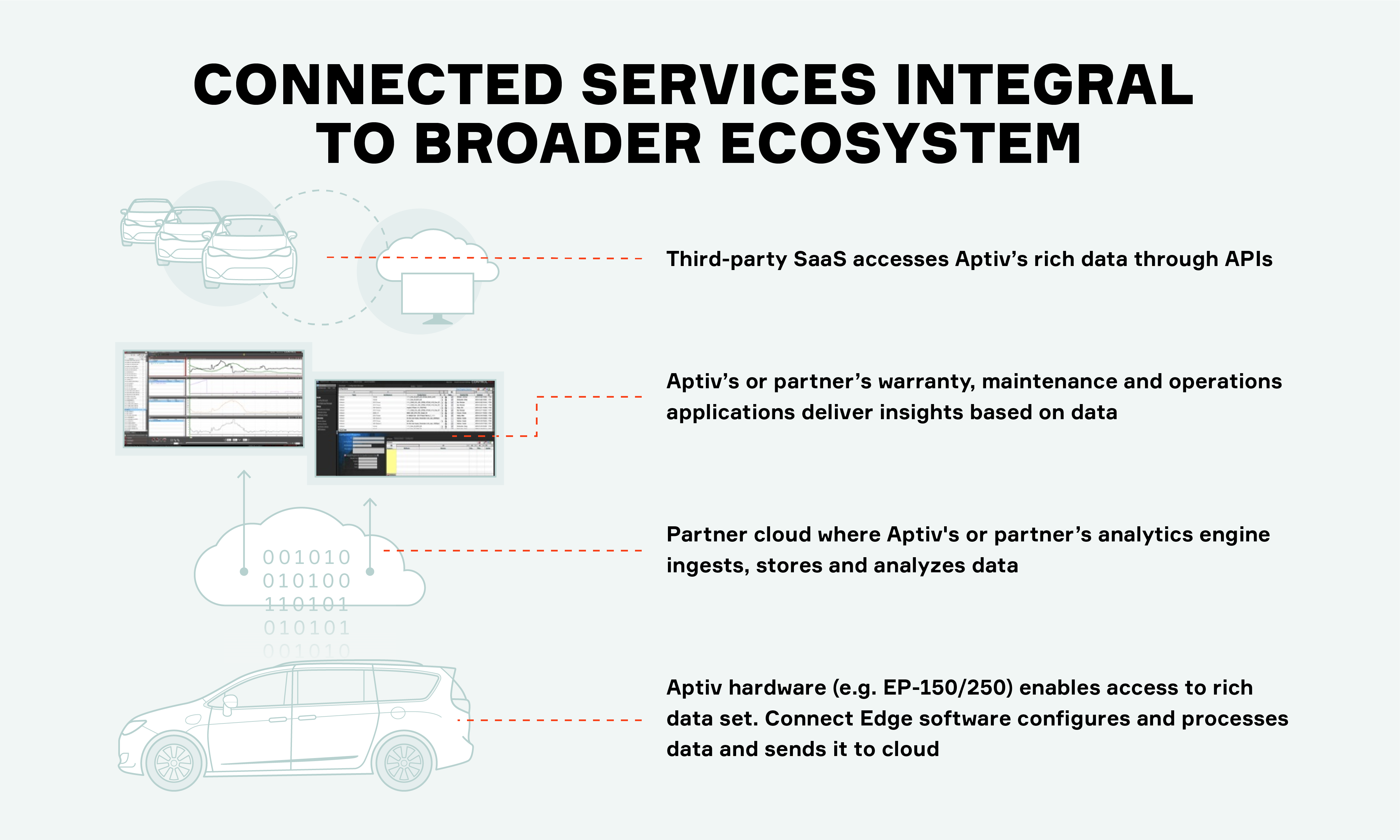 Financial benefits
Third, the solution has to deliver tangible financial benefits for both the consumer and the OEM.
Aptiv's solution is able to identify potential vehicle issues before a consumer brings it to a dealership, helping to minimize warranty and recall exposure by reducing misdiagnoses of vehicles and accelerating time to resolution. It also lets customers know vehicle health statistics such as fuel level, tire pressure and oil life, and alert customers if those become critical. Edge capabilities allow users to perform critical vehicle functions like unlocking, even when a network is not available.
For dealerships, the solution drives parts and service revenue by tracking maintenance, improving logistics and maintaining a relationship with the customer, which increases customer loyalty.
For a fleet, the solution lowers total cost of ownership by reducing unscheduled maintenance, increasing vehicle compliance with regulations, increasing operating efficiency and monitoring and improving driver behavior, potentially reducing insurance costs. Our aftermarket solution can enable fleets with select models dating back to 2011 to be connected on the same platform.
Aptiv's Connect Edge combines all three of these elements into a hardware and software solution. The hardware can digest thousands of signals on a vehicle network, while the Aptiv Connect Edge software intelligently pre-processes these signals locally and uses
over-the-air
programming and machine learning to make decisions about what data needs to be collected and transmitted. With these tools in place, OEMs can easily fulfill their requirements and bring connectivity to all of their vehicles.