To address a challenge as complex and widespread as the COVID-19 pandemic, businesses must work both globally and locally. Aptiv owes its success in responding to the challenges of the pandemic to the willingness of our employees around the world to "think and act like owners," one of Aptiv's core values.
When Aptiv developed companywide Safe Operations Protocols early in 2020 and deployed them in sites around the world, many of those sites built upon that foundation in innovative ways that were particularly relevant to their specific regions. Aptiv recently recognized the best of those efforts with our internal Sustainability Awards, acknowledging team members who went above and beyond to address the needs of staff members and their communities. Our teams' urgent procurement of materials and development of processes were key to the success of our global COVID response, with sites implementing standard protocols even before government guidelines were issued.
Powerful prevention

As the coronavirus began to spread in early 2020, many companies were unsure of the appropriate response. However, the Aptiv Electrical Distribution Systems (EDS) plant in Shanghai, China, was quick to act on the available information to protect its greatest resource: its staff.
The plant participated in the production of the government-run Medical Ambulance Accessories project and contributed to epidemic prevention work. Establishing social distancing and sanitation practices ensured the safe reopening of the EDS facility by Jan. 30, 2020. The fast response by the whole team made it one of the first factories to be cleared to resume activities by local authorities, resulting in zero infection-related shutdowns and saving more than 9,000 working hours.
"The health and safety of our staff are always a top priority," says Yu Liu, an environmental health and safety engineer at the site. "As soon as the epidemic alert was received, we implemented effective prevention and control measures."
Powerful adaptation

The Singapore engineering center was so successful in its COVID-19 response that the corporate EHS team quickly adopted its measures for use in Aptiv operations globally. As part of its protocols, the Singapore team implemented a cohort system to limit unnecessary contact between groups of workers to reduce community spread. They rearranged workspaces as necessary to handle the policy and enabled alternative working practices such as conducting video calls in lieu of in-person meetings.
The site's operations office proactively issued communications on new government measures, health guidance and COVID hotspots. They made the information easily accessible through a variety of platforms, including posters and social media channels. They conducted weekly employee health surveys and issued care packs with masks, sanitizer and other essentials. As self-testing kits became available in August 2021, the Singapore site provided them to all employees.

Powerful education

Active participation from team members is essential for any action to be effective — but providing resources and issuing directives does not work if you have not earned employee buy-in.
At the EDS plant in Chennai, India, only about 10 percent of the 3,000 staff members were interested in the COVID-19 vaccine when it first became available. Rather than simply dictating that staff members get vaccinated, Aptiv's Chennai medical office committed to open communication with employees and thorough education, organizing 14 vaccine awareness campaigns.
To clear up misconceptions about the vaccine's safety, the team wrote pamphlets in the local language, played audio recordings on company intercom systems and displayed educational posters in common areas. "Toolbox talks" allowed employees to ask questions and hear from vaccinated coworkers. Through these efforts, by September 2021, 100 percent of employees had received at least their first dose of the vaccine.
Powerful people
Meanwhile, Aptiv's Mexico Technical Center in Juárez demonstrated the power of working as one team. Staff members at every level worked together on a massive push to vaccinate both employees and the general public.
Under guidance from local health officials, the facility converted its parking lot into a COVID-19 vaccination site. Nearly 100 Aptiv employees provided logistical support while government medical staff members administered vaccines. Aptiv invested approximately $100,000 in the effort, donated breakfast and lunch for all personnel during the two-week campaign and offered transportation for all employees to get to the vaccination site. Over 35,000 people were fully vaccinated, including employees from 44 other companies in the area. Aptiv provided vaccines to 92 percent of the Juárez location's workforce and donated $180,000 worth of personal protective equipment to 11 COVID-19 public health institutions in Mexico.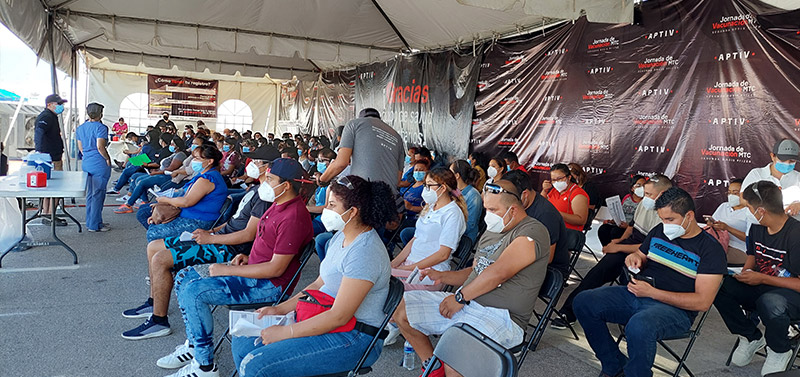 Juárez vaccination tent
These examples represent only a few of Aptiv's initiatives to combat the pandemic. From staff members in Brazil producing face masks for frontline healthcare workers to an employee-led fundraiser that donated $42,000 to a local emergency department, every award winner embodies Aptiv's value to think and act like owners. As new variants of the COVID-19 virus emerge around the world, we are grateful for all the efforts of our teams in every region, and we know that as we continue to support them, they will continue to deliver for one another and for their communities.