As we pursue our mission to create a safer, greener and more connected world, we believe that how we get there is just as important as the technology we build. We know the impact fresh water has on the health of the communities in which our employees live, and that is why Aptiv takes action on conservation in water-stressed regions.
In 2021, we donated funds to support the restoration of hydrological micro basins in Mexico's Sierra Tarahumara region and employed two indigenous communities to plant more than 40,000 trees. We made the donation to the not-for-profit organization Pies de la Tierra AC (Feet of the Earth) through our partner United Way Chihuahua. We made this contribution during Aptiv's fourth anniversary celebration at our technical center in Juárez, Mexico.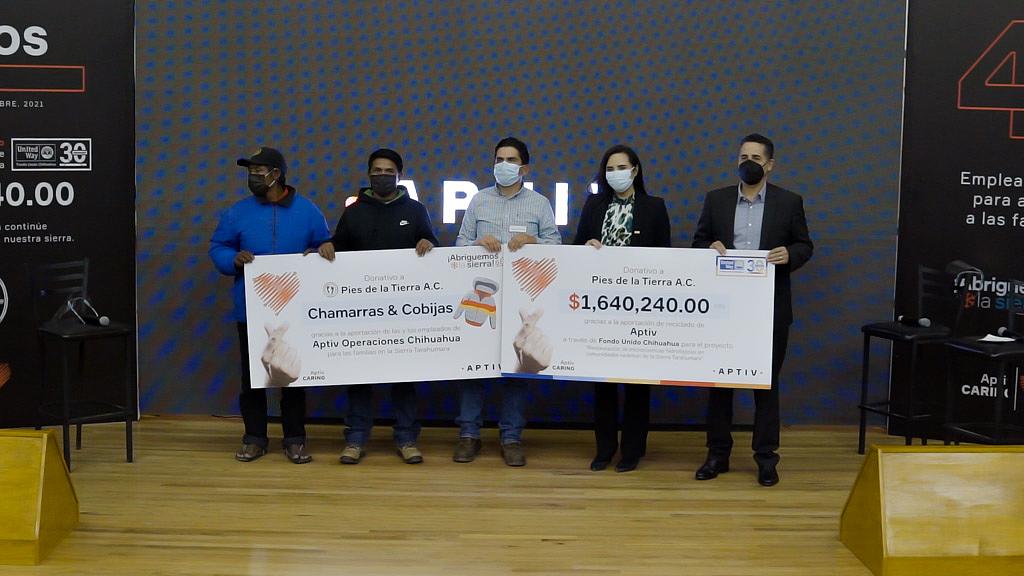 Aptiv staff members presenting a check for $1.6 million pesos to Pies de la Tierra.
The donation will directly support the indigenous Rarámuri communities through workshops on soil and water conservation techniques, while employing 450 local residents and preserving the region's biodiversity. Covering 41,000 square kilometers (an area the size of Switzerland), the land feeds rivers that flow into the Gulf of Mexico and the Atlantic Ocean.
"The community is happy, because there will be jobs and benefit for the family," said Juan Erick González, a resident of Coyachike, Batolipas, a community that benefited from the donation.
Direct social investments are a vital part of Aptiv's sustainability objectives, and partnering with indigenous communities ensures that such projects will have a greater impact over the long term by teaching skills that can be used for years to come.