At Aptiv, we know that how we achieve our mission — to enable a safer, greener and more connected future of mobility — is just as important as the mission itself. That is why we provide employees with the tools and training they need to always do the right thing, the right way. In 2021, we built upon our ongoing communication initiatives by launching several new creative platforms to educate and engage with employees on ethics and compliance.

Our new programs include an internal podcast with senior leaders to highlight the compliance topics that are most relevant to our business. We also delivered live, targeted training on key emerging risks and regulatory enforcement trends. And we launched a monthly newsletter to maintain an ongoing dialogue with employees about the importance of ethical business conduct and a culture in which everyone feels free to voice any concerns.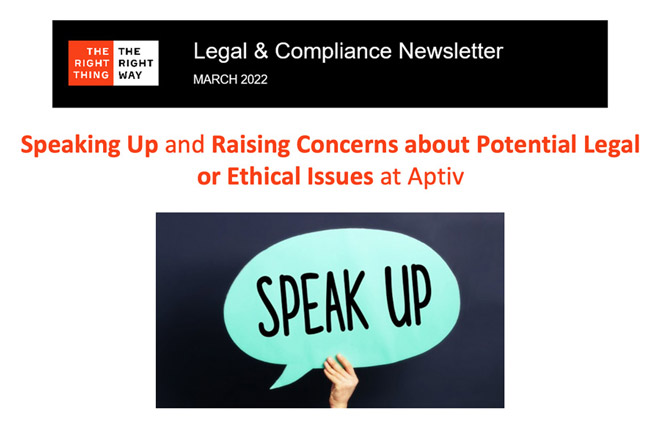 March 2022 compliance newsletter topic
Aptiv provides its stakeholders with multiple channels to speak up, through Human Resources, the Legal & Compliance Department and our confidential hotline, the Aptiv Drive Line. The Drive Line is operated by an independent third party 24 hours a day, seven days a week, in multiple languages for Aptiv employees worldwide. We treat all reports confidentially, investigate them thoroughly and will not tolerate any form of retaliation. Aptiv counts on its employees to live our values daily to help uphold our reputation as a company that does business with integrity.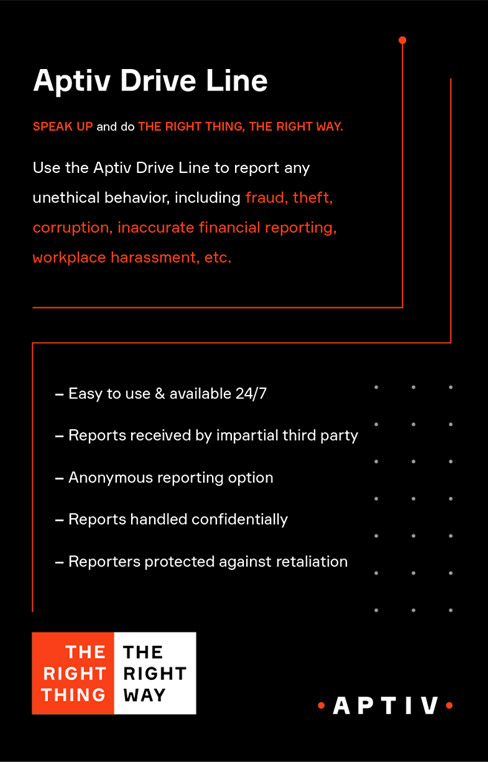 Aptiv's Drive Line support poster
Because we empower our employees with tools to live Aptiv's values every day, the Ethisphere Institute named us one of the World's Most Ethical Companies for the 10th year in a row. We go above and beyond to foster an open dialogue with our employees about ethical business practices because we recognize that the dialogue is necessary to ensure that everyone's commitment to our values continues.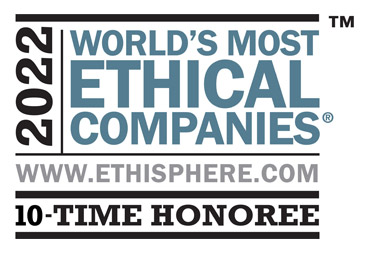 Ethisphere award recognition