Aptiv supports community outreach and educational initiatives that give women and girls the chance to explore opportunities in technology. We recognized several of those initiatives as winners of our 2021 internal Sustainability Awards.
Girls Who Code partnership
In 2021, the Aptiv Foundation donated $100,000 to Girls Who Code, an organization that helps girls and young women pursue careers in technology and offers online tools, books, programming clubs and in-person workshops. The participants often come from historically underrepresented groups, including the Black and Latino communities or low-income backgrounds. Aptiv is posting our U.S. internship positions on the organization's website and in its alumni newsletter. Partnering with Girls Who Code, we are helping close the gender gap for entry-level tech jobs by 2030.
Mary Adenola, a data analyst at Aptiv, knows firsthand the positive impact of getting girls interested in technology development. "I got involved with a community that introduces coding and technology to young girls," she said. "I was mesmerized by what I saw, and my love for math grew so much that I decided to pursue a bachelor's in mathematics and statistics." She is now an ambassador, mentor, fellow and instructor for Code First Girls, a U.K.-based provider of free coding courses for women that is similar to Girls Who Code.
College-level initiatives
Last year, Aptiv's facility in Cochin, India, conducted the first of what will become an annual workshop for female college students. Hosting students from the Toc H Institute of Science and Technology, engineers from the site presented an overview of Aptiv's technology innovations and discussed the day-to-day challenges of an engineering job. The students worked together to solve puzzles that were designed to highlight the kinds of problems that engineers frequently face.
"I had a great experience demonstrating and explaining new developments in the automotive industry to the young women," said Aptiv Senior Engineer Remya Savithri. "And I am sure that it will be helpful for the participants to nurture their futures." The workshop was well received and will be expanded in 2022.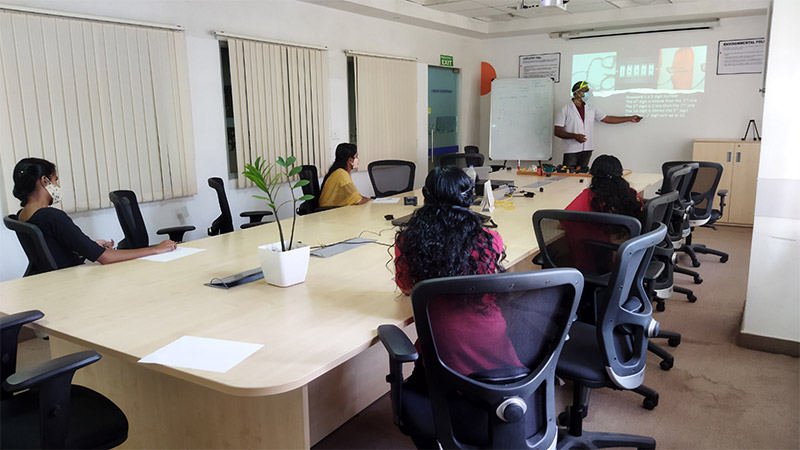 Students from the Toc H Institute of Science and Technology,
hearing from an Aptiv engineer.
Additionally, Aptiv India in 2021 began funding a scholarship for female engineering students attending the Indian Institute of Technology, Bombay — one of India's top technical and research universities. Based on students' financial need, the scholarship covers all educational costs and living expenses for the four-year duration of their degree.
At Aptiv, we believe that bringing diverse backgrounds and perspectives together improves innovation. We hope to encourage women and girls to pursue careers in technology, to help solve the industry's toughest challenges and to enable a safer, greener and more connected future of mobility.