As part of Aptiv's investment in projects that protect the environment and the communities where our employees live and work, we support many tree-planting initiatives around the world. Our internal 2021 Sustainability Awards recognized several sites whose tree-planting efforts went above and beyond to help restore biodiversity and ensure a healthy ecosystem for the next generation.
In 2021, more than 12,000 Aptiv employees either adopted trees to take home or volunteered to plant trees locally. In addition, Aptiv donated more than 160,000 trees through various nonprofit organizations, including Pies de la Tierra, Ant Forest, and Tree-Nation.
These initiatives offer many environmental benefits, such as removing CO2 and other pollutants from the air, reducing ambient temperatures by creating shade cover, protecting fresh water by minimizing soil runoff, and improving biodiversity by strengthening local habitats.
Preserving biodiversity
An Aptiv technical center partnered with One Tree Planted on a reforestation initiative in Querétaro, Mexico, to preserve biodiversity and the ecological health of 45 communities within the Sierra Gorda Biosphere Reserve. The initiative, known as The Canopy Project, will help plant 30,000 trees on public and private lands and school grounds in one of Mexico's most ecologically diverse regions. The area's rich vegetation and tropical forest provide an essential ecosystem for many migratory animals and threatened species.
Sustainability through awareness
Aptiv sites in India planted more than 1,600 trees in 2021, including 200 trees planted at a public high school in the Rewari district by a team of volunteers from an Aptiv facility in Dharuhera. The volunteers also educated the students about the role tree planting plays in sustainability and taught them how to care for the saplings.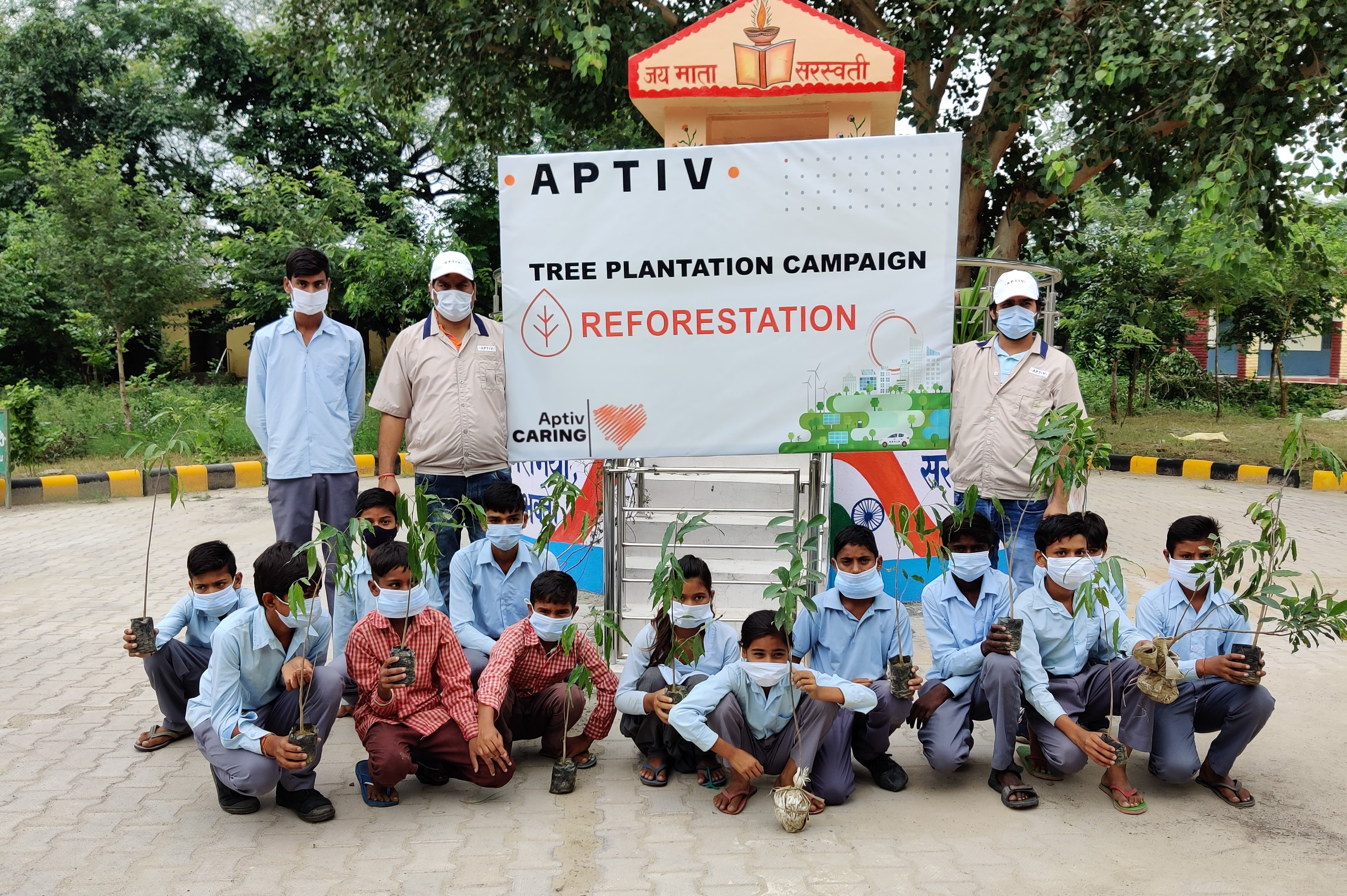 Aptiv volunteers at the Khatawali public high school in Rewari
The EDS facility in Chennai, India, hosted a sustainability awareness event and planted 250 trees on the site grounds and the nearby industrial area in honor of the World Environment Day 2021 theme of ecosystem restoration. The environmental awareness event displayed educational banners and educated employees about Aptiv's sustainability commitments and the motivations that drive our mission. The site also planted an additional 200 trees around the perimeter of a local lake to limit erosion.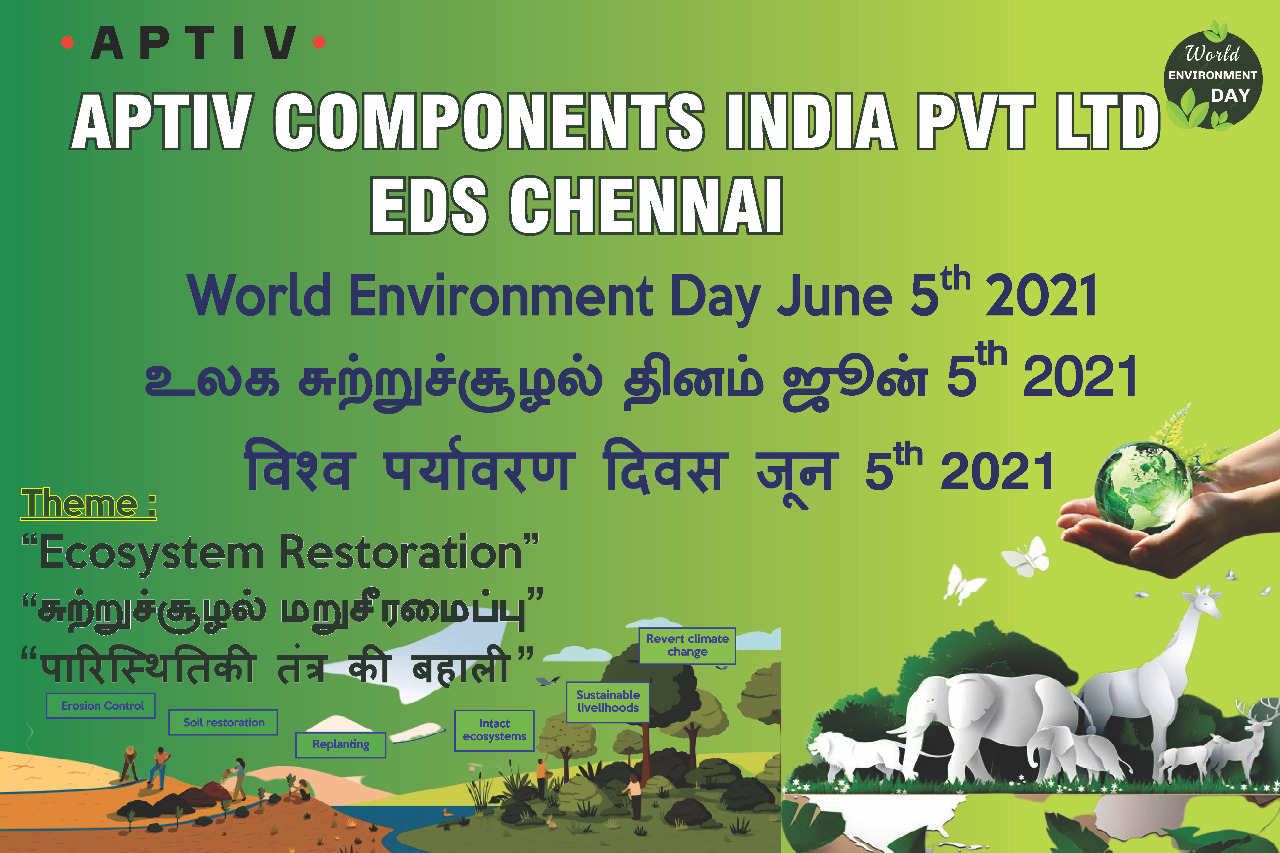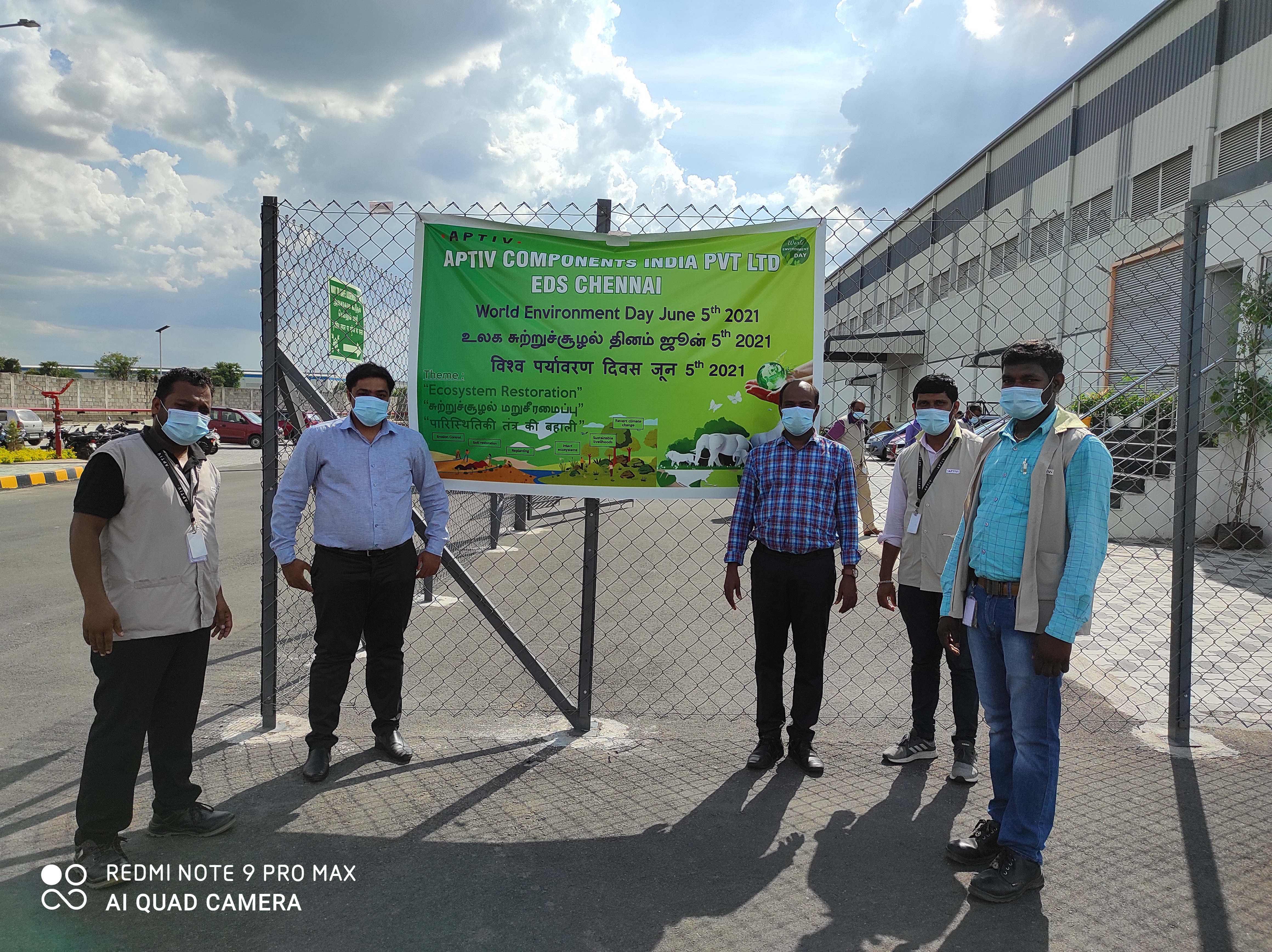 Educational banner about Aptiv's sustainability commitments at a site in Chennai, India
Likewise, an Aptiv facility in Hungary engaged employees with a variety of activities, including a photo contest to highlight natural habitats and wildlife, a recycling challenge and a sitewide environmental quiz. The site also partnered with a local forestry company to plant 650 trees.
Good for the environment and our people
Employees at an Aptiv site in Épernon, France, planted fruit trees on Aptiv's grounds, in addition to the 650 trees they planted locally. Fruit trees are effective at removing CO2 from the air thanks to the energy needed to produce fruit, and they support biodiversity by providing a safe refuge for birds and pollinating insects. However, the trees were also chosen for their everyday impact on the lives of our employees. Studies have shown that providing access to green spaces and developing natural urban environments can boost cognitive function and mental health by reducing stress. Our Épernon site is committed to planting a few new trees every year to maintain a high quality of life for our employees.
One piece of the puzzle
All of our award winners demonstrate the key role that tree planting plays in preserving ecosystems, protecting fresh water supplies and supporting the communities where we live and work. But we also know that tree planting is just one piece of the puzzle for a carbon-neutral future. We are just as committed to pursuing renewable energy alternatives, reducing waste wherever possible and nurturing the values that keep sustainability at the heart of Aptiv's business.