Aptiv was recognized at the BMW Supplier Innovation Award 2018 for its driver sensing technology. For the fifth time, the BMW Group has honored suppliers for their outstanding innovations and development work with the BMW Supplier Innovation Awards at the BMW Group Plant Landshut, Germany. Aptiv's driver sensing was nominated in the category "Digitalization".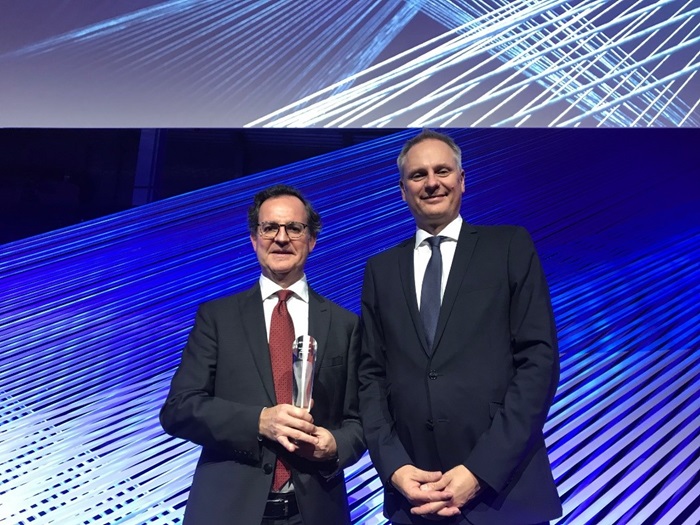 David Paja, President Advanced Safety & User Experience, Aptiv and Stefan Durach, BMW SVP of Procurement for Electronics
"We are honored to receive this recognition and see the award as further inspiration in continuing to develop safer, greener and more connected solutions that are enabling the future of mobility for our customers," said David Paja, president, Advanced Safety & User Experience, Aptiv.

Aptiv's interior sensing technology utilizes integrated sensors and artificial intelligence to detect and understand critical occupant information, such as fatigue and distraction. The technology, in production today, intuitively provides safety, personalization and authentication functionalities for the next generation of user experience. It is also a key building block in the journey toward active safety and autonomous driving.
Developed using deep learning: Current generation of deep learning neural networks, in production since 2015, provide hand gesture recognition for safe, intuitive HMI interaction. The next generation of networks will ensure safe operation of L2/L3 automated vehicles with features, such as hands on wheel detection and object interaction detection.
Driver monitoring supports Euro NCAP: Driver monitoring systems, entering production in 2018, already supports features such as driver fatigue and distraction detection that will be required as part of the Euro NCAP safety rating system in 2022.
Expanding Capability: Interior sensing technology will support the next generation of mobility by providing vehicle monitoring functions, such as left-behind object detection and vehicle cleanliness detection.