The CASE Framework
With the automotive industry making the transition from traditional mobility to smart mobility, we found that most OEMs share a similar outlook. At CES 2018, Mercedes talked about this concept of smart mobility as human-centered innovation.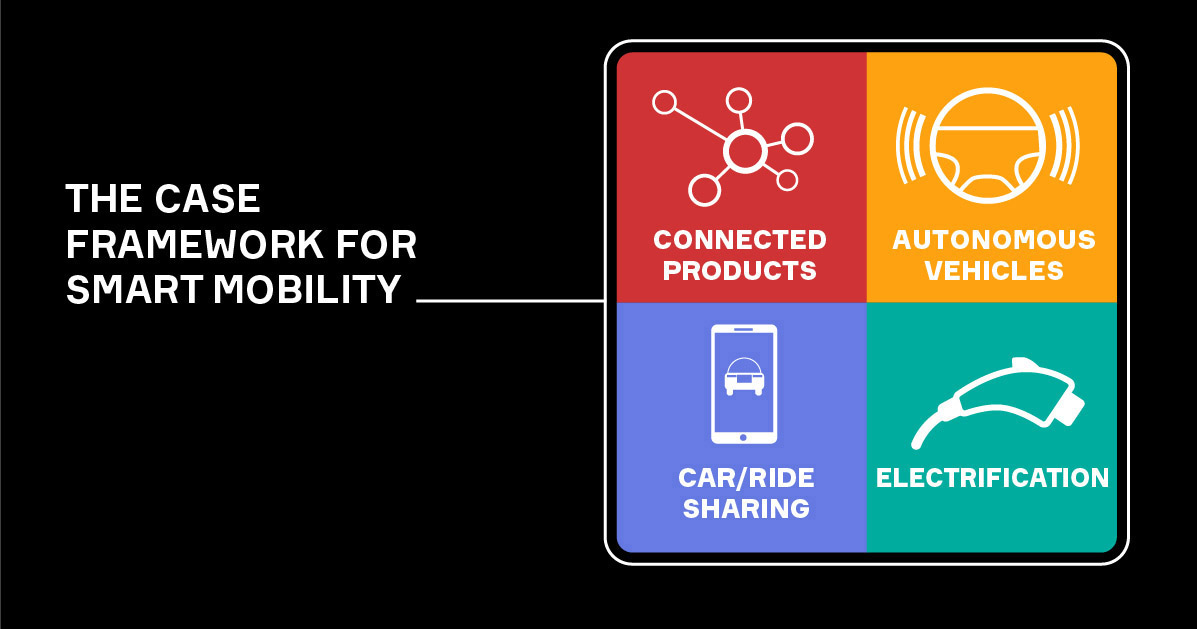 C – Connected Products
Vehicles have been connected to call center/concierge services and infotainment system apps like Spotify and Pandora for quite some time now. Today, they are connected with each other and the surrounding infrastructure to enable automated driving, as well as over-the-air (OTA) software updates to continuously enhance the security and efficiency of the vehicle. Gartner forecasts that by 2020, one in every five vehicles on the road will be connected, amounting to more than 250 million connected vehicles globally.
A – Autonomous Vehicles
With Level-2 automated vehicles (driving assist features) already on the roads, many companies are already extensively testing Level-4 and Level-5 automated vehicles (no steering wheel required). Projects are underway to implement these automated fleets in the trucking industry and the public transportation systems of many cities around the world as early as 2019. Mobile shopping stores and autonomous delivery of products are already in the pipeline for OEMs and other tech companies.
S – Shared Economy
More than 45 million people in the US alone have used ride sharing services like Uber and Lyft in 2017. The projected growth in the number of users by 2022 is 72.4 million. While these services are currently concentrated in urban areas, the rise of autonomous vehicles on the road will soon extend these services in to the suburbs as well. As the ride hailing industry is expected to grow to $285 billion by 2030, OEMs are partnering with Uber, Lyft and other ride-sharing companies to maintain a competitive edge.
E – Electrification
With falling battery prices and rapid technology advancements, the Boston Consulting Group (BCG) estimates electrified vehicles will take up over 50 percent of the global auto market by 2030. The number of global EV (electric vehicle) charging stations is also forecasted to grow to more than 12.7 million units in 2020 to support the production of pure electric and plug-in hybrids, encouraging more people to buy these vehicles. Stringent government regulations on emissions has also played a major role in the automotive industry's green efforts.
This CASE framework helps us understand the direction of the automotive industry. In addition to the four main building blocks of connected products, autonomous vehicles, shared economy and electrification of vehicles, OEMs strongly emphasize on putting the customer in the center of this business transformation.