Commercial vehicles encounter harsh environments and severe road conditions daily. Hauling heavy cargo or working in construction and agriculture, along with an increase in modern industry requirements, have created the need for higher standards in commercial vehicle connection systems.
We know the commercial vehicle market is unique, as the electrical architecture has to contend with much harsher operating environments than traditional passenger vehicles.
Think of it as a triathlon. Most of us can train and manage a short run, a swim or a bike ride. But when it comes to a full day of endurance – through mud, water, and who knows what kind of weather conditions – that's a whole new level of training and performance.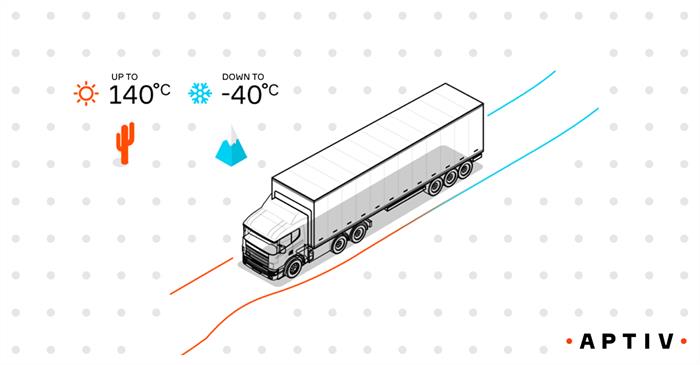 A commercial vehicle is a lot like that triathlete. The connection systems must withstand conditions a normal passenger vehicle or human would buckle to, with a perseverance similar to someone reaching the finish line at the end of an Iron Man. And it must keep the vehicle's electrical architecture safely together, so external forces don't impact the power distribution at any time, from start to finish.
Aptiv's Compact Transportation Connection System (CTCS) connector technology provides unparalleled reliability and performance, and our high standards for robust and durable connection systems come from our advanced engineering testing and validation processes.
Our connectors have an IP6K9K sealing rating, the highest validation in protection against water and dust intrusion.


Our connectors can resist an impact of 30G forces. To put this into perspective, the average human will black out at five G forces. Their design with robust back shells help mitigate strain relief on the road.


Our connectors can sustain performance through -40°C and up to +140°C. We validate for these extremes in the lab, but we also test our connection systems in some of the most extreme natural environments like Death Valley – literally the hottest place on earth – and Thunder Bay, Ontario - one of the coldest.


Our connectors are also guaranteed by pre-loaded stainless-steel springs, so no matter the heat, the terminal base body won't relax or bend.


Aptiv's family of connectors answer the increasing demand in the commercial vehicle industry for a connection system to perform flawlessly and reliably.