One of the things I love most about working at Aptiv is that while we are officially only one-year-old, we still carry a 100-year-old legacy of success with us. We can trace our roots in automotive technology back more than a century and while our history is important, our entrepreneurial spirit keeps us moving toward the future. Across our entire business, we are always looking forward through the windshield rather than being fixated on the rearview mirror.

After all, how many organizations with 100-plus years behind them can say they earned a spot on Fast Company's list of the World's Most Innovative Companies in 2018? Our deep experience working with the entire mobility ecosystem gives us the ability to deliver the right solutions today, and a unique vision to know where the future is headed tomorrow.

As is common with new technologies, we've seen a lot of hype about the autonomous mobility industry. And with hype comes high expectations. But another great thing about working at Aptiv is that we don't subscribe to hype. Given our rich history, we have seen so many trends come and go (the Landau roof anyone?) that we are able to stay grounded – literally where the rubber meets the road.

We know where the future of mobility needs to go – toward a safer, greener and better connected world for all of us. Our vision of a world with zero accidents and zero fatalities gives us purpose as we work every day to design and deploy active safety and autonomous mobility solutions globally.

We have autonomous vehicles (AVs) on the streets today in complex cityscapes like Las Vegas, Singapore, Boston and Pittsburgh, experiencing the widest range of traffic, road and weather conditions. These real-world labs help us effectively learn and adapt our technology and our methodology every day – and we are doing it safely. Because it's not just about the technology in the autonomous vehicles. It's about how AVs interact with the environment around them.

In Las Vegas, for example, Aptiv has partnered with ride-sharing service Lyft to provide the first autonomous driving technology used in a public commercial AV service. How's it working out for everyone? In Las Vegas alone we have given more than 30,000 Lyft rides, and our current rating is 4.95 out of 5.00 stars.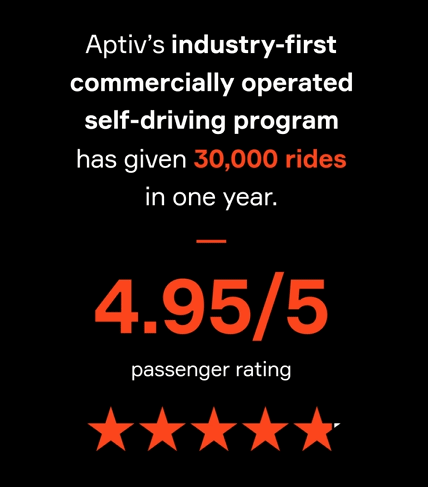 This past December, we opened a 130,000-square-foot Technical Center there, which showcases our end-to-end autonomous mobility business. It's a state-of-the-art, all-inclusive facility for vehicle operations, research and development, data management and technology demonstration. The investment is a milestone in Aptiv's continued expansion of our revenue-generating AV activities in a community where we have been supporting public rides since last May.

Our AVs currently serve more than 1,600 destinations across Las Vegas and greater Clark County, and we have plans to expand that list as we continue to adapt and learn about the environment.

For instance, if you've ever been to Las Vegas, you know it's a city of millions of lights. One of the challenges that we have had to solve for is getting the sensors in our AVs to effectively pick up traffic signals amid the visual background noise of Vegas' glitz and glow. But we've successfully cracked that puzzle and many others like it.

The same is true in Singapore, Boston and Pittsburgh. Every transportation environment has its idiosyncrasies, and our talented people are living and working in them every day developing technology solutions. Last June, we all cheered when Aptiv became the first company to be granted permission to operate AVs city-wide on the public roads of Boston.

All of us at Aptiv continue to solve for the most complex engineering and social challenges as we advance the future of mobility all over the world. We are the only company to have developed a holistic approach to this – what we call Smart Vehicle ArchitectureTM – that incorporates the full suite of our technology: software, sensing and compute platforms, data and power distribution, and connected and mobility solutions. We continue to develop and improve Smart Vehicle Architecture on a continual basis, with Aptiv-equipped vehicles already having logged more than one million autonomous miles across the globe. And that's only the beginning. We're committed to seeing those million miles becomes billions and trillions.

And that's the history we want to write.

This is the first in a series focused on advancing the future of mobility. In the next blog, I'll focus on safety and how technology being tested for AVs is making today's human-operated vehicles safer. In a future blog, I'll explain more about Smart Vehicle Architecture and key developments we are making on that front.