As we work toward our mission of enabling a safer future of mobility, we never lose sight of our commitment to create a safer workplace. Thanks to investments in initiatives that protect our people, in 2021, Aptiv's lost workday case rate was 90 percent lower than the 2020 industry average for motor vehicle electrical and electronic equipment manufacturing in the US.
By aligning our safety practices with our Lean deployment, we exceeded two key annual targets: the number of hours of employee safety training we delivered, and the number of facilities we certified to the ISO 45001 health and safety standard. We also recognized several Aptiv facilities in our 2021 internal Sustainability Awards for implementing their own initiatives to create a safer workplace and for exemplifying Aptiv's commitment to always do the right thing, the right way.
A proactive approach to safety
For example, the awards highlighted an Aptiv facility in Chennai, India, that marked six years without a lost workday case. The team's success demonstrates Aptiv's proactive approach to identifying and mitigating safety risks. As part of the hazard analysis and risk assessment, the onsite environmental health and safety (EHS) director conducts routine tours of the shop floor, identifies potentially risky conditions, determines appropriate preventive actions, verifies that employees follow safe machine operation protocols and ensures that employees have adequate training and personal protective equipment.
The facility also boasted a 100 percent annual engagement rate in Aptiv's safety look-across process last year. The weekly process requires EHS directors to determine whether any safety improvements identified by other facilities are applicable to their locations. For example, in 2021 an Aptiv facility in China improved the safety of one of its machines, and 32 other facilities subsequently adopted the practice across 200 pieces of equipment. Globally, the look-across process was used 111 times last year to improve safety practices.
Safety starts with awareness
The first step to making an improvement is identifying the need, so enabling employees at every level to speak up about safety concerns is essential. An Aptiv facility in Morocco launched a phone application and safety questionnaire to empower employees to identify safety risks, celebrate achievements and foster a culture of safety awareness.
Similarly, a facility in Anting, China, hosted online monthly safety meetings with more than 90 percent employee engagement. The meetings covered important safety topics, provided a forum for employees to ask questions and encouraged attendees to reaffirm their commitment to maintaining a safe workplace. "The monthly safety meeting helped me recognize hazards and know how to avoid injuries during work," said Xuelian Cheng, a manufacturing technician at the facility.
Improving routine tasks
Small improvements to routine tasks can make a big difference in long-term employee wellbeing. An Aptiv facility in Morocco made a custom tool to assist employees who handle wire spools weighing 80 to 100 kg. The new system benefits about 20 employees by reducing both the time it takes to lift the spools and the risk of injury from repetitive lifting.
A facility in Conceição dos Ouros, Brazil, introduced an adjustable basket to provide better ergonomics for employees and alleviate the strain of frequently bending over to pick up connector parts. The new system benefits more than 50 employees on a daily basis.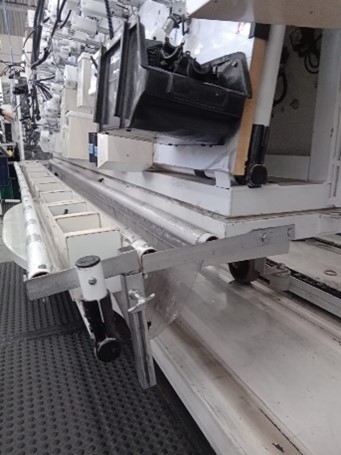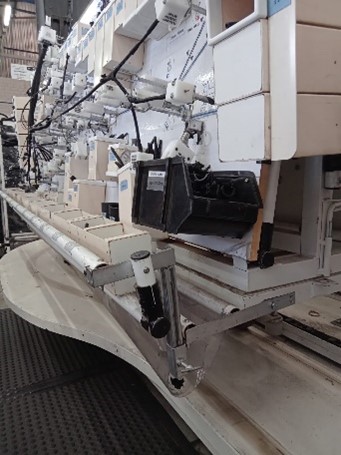 An adjustable table lowered (left) and raised (right)
A nearby facility in Espírito Santo do Pinhal provided employees with a machine assistant to automate the process of cutting thick nylon tubes with scissors, eliminating the strain of the repetitive manual task and doubling output by improving efficiency.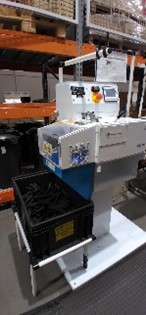 The automated cutting tool Espírito Santo do Pinhal
Prioritizing employee health
Prioritizing healthcare is an essential investment to keep our workforce strong. An Aptiv facility in Szombathely, Hungary, provided more than 500 onsite health screenings in 2021 to ensure employees had access to essential preventive medical care, including routine laboratory work and sonograms, eye exams, allergy tests, and screenings for cancer, pulmonary function and overall cardiovascular health. The program has grown significantly since it began in 2018, due to its overwhelming popularity with the facility's staff. In an anonymous questionnaire, one employee said, "It is a great feeling that my company supports the health of the employees with these medical screenings."
Another facility, in Changchun, China, partnered with the Red Cross to offer first-aid lectures that provide employees with the necessary skills to respond quickly to emergency situations in the workplace. The lectures included training on how to perform CPR, how to use an automated external defibrillator and the proper steps to manage bleeding. The employees received certificates from the Red Cross and are eligible to renew their certification every three years.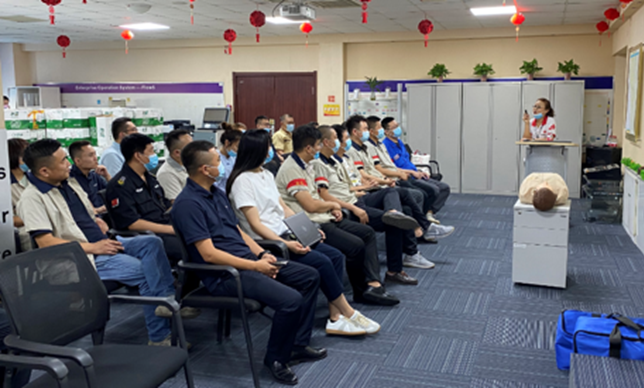 CPR class at Changchun, China, facility
A job that never ends
Highlighting the hard work and achievements of our team members motivates us to work harder and not rest on our laurels. We recognize that there is always more work to do to improve employee health and safety, but we know that as long as we continue to prioritize and invest in our employees, we will have everything we need to achieve our mission of transforming the future of mobility.